"Andy and August made the trip amazing. Their laid-back style belies the level of knowledge and experience with sailing offshore that each of them possess.

Coming in to this trip with 12 years of coastal sailing experience, both racing and cruising, I definitely thought I know and have experienced way more about sailing than I have. The first time the fog sets in at 2am and all you can see in front of you is the soft glow of the bow lights, or the first time you are laid low by mal de mer, it's a good wake-up call that learning to be a proficient sailor is a lifelong activity.

Having the opportunity to sail with two easily competent sailors like Andy and August, on a beautiful boat like ICEBEAR, is the best opportunity to have your butt kicked a bit and be reminded that there is always so much more to learn!"
"Imagine being on watch several hundred miles offshore, whistling along at eight knots under a summer Arctic sun that never sets. The skipper pops his head out of the companionway, looks around taking it all in without expression, then breaks into a grin and says, 'Hurricane egg anyone?'
I'm having one of Andy's signature breakfasts on the porch this morning about a month after our glorious sail from Tromsø, Norway to Spitsbergen, daydreaming about the trip and my ISBJORN experience. Beyond an exceptional Arctic adventure aboard a great boat with wonderful people, I came home a better sailor armed with a sense that heading offshore in my own boat was not only possible but, with prudence and adequate preparation, doable. I head out across the Bay of Maine bound for Shelburne, Nova Scotia in a few days. Thank you, Andy and Mia, for sharing what you know and how it's done so generously and for the opportunity to sample a world only previously read about. It was an experience of a lifetime!"
"I could talk about the crew and all the fun that we had sailing together and learn to know each other, how I came home richer in valuable knowledge and experience, or how the beauty of the places we visited will stick with me forever.

It is all true, but what I remember most is how safe I felt during our crossing aboard ISBJORN. How, without any hesitation, I could go out of my comfort zone and be perfectly fine because of how incredibly safe I felt around Andy and Mia. That feeling of safety made the passage so immensely enjoyable for the newbie that I am, and had a deep impact on the way that I handle my own sailboat, prepare our passages, and most important: how I enjoy sailing.

Andy and Mia, a million thanks for some of the best sailing memories of my life, and the opportunity to learn from you before taking off on our sailing adventure!"
"I had a outstanding passage. I wanted an offshore sailing experience to prepare for future passages. I saw some of what it takes in planning and executing a 600 mile sea passage. The crew was comprised of interesting and accomplished people who were fun to be with. The daily watch schedule and feeding and provisioning for an offshore passage was also something I wanted to see and learn about. Ishbjorn is a joy to sail and instills confidence in any weather. The physical beauty of where we were sailing was amazing. Mia and Andy are accomplished sailors and made it a great experience."
"As a professional skipper myself, my time with Andy and Mia was invaluable. In terms of the vessel, they run a tight ship, with special attention to any detail that will effect safety and functionality offshore. In terms of the crew, they are incredibly supportive and patient - both great leaders and educators. Andy and Mia are doing a magical thing; they are taking us out in the ocean and sharing its enormity, while at the same time shrinking what seems like a daunting task, and making going off shore an achievable and enjoyable reality."
"My time aboard Isbjorn was everything I wanted and more! Learning the seriousness and importance of weather routing (the result being a very comfortable 8 day offshore trip); safety aboard, the 4-hr. watch system, proper diet, the fun we had discussing your business model and the new boat Ice Bear. The glaciers, polar bear and icebergs were simply icing on top of this high arctic adventure. Anyone planning or considering venturing offshore would do well to travel a route or two with you aboard Isbjorn or Ice Bear. My sincere thanks for the opportunity to be a crew member."
"Andy & Paul were amazing from the practice sails to the race itself; I never thought I'd be able to participate in such an exciting event, thank you. I'd also like to thank Liz & Lee, your first mates, who were always on hand to encourage us, teach us, and swap stories. I came away with tremendous respect for Isbjorn, her captain, and the excellent crew she attracts. I learned more and had more fun in those racing days than I'd ever thought possible. I'm definitely coming back."
"Adventure, education, majesty...I can't imagine a better pair of people to introduce us to the sublime enterprise of offshore sailing. This trip will always live amongst my cherished memories. Thank you!"
"Amazing experience. All that we had hoped for and more. My husband and I joined the crew, looking for bluewater experience. Andy & Mia are skilled professionals and gifted teachers. They create a warm environment while insuring that safety comes first. We feel much more equipped to head out of sight of shore on our own."
"Thanks for a fantastic trip with memories for a lifetime! I really enjoyed sailing with 59 North - you really do a great job of putting it all together. I have so many new ideas from this trip that I'd like to try on my own boat!"
"I signed on to this passage hoping to get some offshore sailing experience before taking the plunge as a full time cruiser. What I ended up with was that and more. Mia and Andy were nothing short of wonderful. They made the build up to the trip easy and educational with multiple newsletters and e-mails specially designed for this passage. Their focus on safety is priority #1. While they will push you to go beyond your comfort zone, they have a uncanny ability to "read" their crew and provide an atmosphere of support that helps you succeed rather than succumb. If you are a woman, looking to gain more experience with a non-biased, supporting and amazingly fun experience, this is for you! Andy and Mia are confident and fun sailors who will teach you more in 1 week than you could learn in a year on your own. Andy tells you up front that you will have high-high's and low-lows during the passage. That is completely true! But when it's great, it's really great and when it sucks, it's really not that bad. (it was great 98% of the time!). I laughed, learned and felt an amazing connection to the sea. That first night on watch when you see the stars and realize you are sailing the same way that people have for hundreds of years, it's pretty life changing. I came back from my trip a more confident sailor. I also have 2 wonderful new friends. Thanks for providing one of the best experiences ever!"
"Where do I start? Give me a second to recollect the experience. Ok, ready.
From start to finish my time aboard Isbjorn was extraordinary. Andy and Mia create a warm and welcoming atmosphere. They have a casual way about them, but they mean business when it comes to sailing. It's hard work moving a 48ft sailboat from one place to the next, but it's joyful work.
Our crew was a fine bunch and it took little time for us to realize we were in good hands. Andy and Mia are confident leaders and curious explorers. They have a genuine desire to share what they know and to tackle new challenges as a group, we all learned together. Sail trim to splicing to sailing off an anchor were covered. A sense of community centered around Mia's oceangoing culinary skills that are nothing short of magical. There was no shortage of laughter either.
Isbjorn is an awesome machine. She's seen her share of sea miles, but she proved to be a fast and comfortable platform on deck and below. She's a real globe trotter. I was proud to be aboard.
The trip was life altering for me. The rugged Scottish coastline, a secluded anchorage in Skye, infectious fiddle music at a local pub, newly harvested mussels cooked in freshly foraged myrtle and juniper, Puffins on Fair Isle, dolphins dancing at our bow, haggis and blood pudding, ancient standing stones near Stornoway and a North Sea crossing are just a few of the recollections that will not be forgotten any time soon."
"MAN! What a trip!
This was my very first ocean sailing experience. My wife and I traveled to Scotland from the U.S. and we had such a blast. This trip was really great because we had a mix of coastal cruising and open ocean sailing. Each destination, each anchorage and each town we anchored in was such a fun experience. Every place was different and so very scenic. We saw a mix of rare anchorages as well as small towns and decent sized cities.
HIGHLIGHTS
Puffins! / Seals / Dolphins / Hiking in the Cullin Hills / Scaling waterfalls / Swimming in frigid ocean water / Eating muscles we harvested from the sea! / Touring scotch distilleries / Being at the helm in 30 knots of wind and 6 foot seas / Waling Fair Isle with sheep / 4 days with no land in sight!
Stop reading this and just sign up for a passage already! Andy and Mia are such a great team to sail with. They are both great teachers and will answer any questions you have while underway.
SIGN UP NOW!"
"Meeting and hanging out with the people that we've been crewing with...Andy and Mia have built a natural filtering mechanism to find cool people, essentially. Anyone who sign's up for this is going to be really great to hang out with. It was just so much fun on so many levels. I don't think 24 hours had gone by until we were signed up for RORC 2017. There's unfinished business here."
"59º North - Andy Schell, Mia Karlsson & Paul Exner...The real deal!"
"Ocean sailing is something you have to experience to understand. The Swan 48 is an offshore machine and Andy & Mia are fantastic hosts & teachers. Beyond the sailing, Cuba was an incredible destination. Thanks for the check-mark on the bucket list!"
"I thought I would learn more spending time sailing on my own boat. I was so wrong!

I decided to book a trip when Andy announced the 2017 edition of the RORC600. The entire experience felt like an amazing vacation with familiar friends but nothing else was familiar: 4 hour shifts, sleeping against a lee board, larger winches and sails, beautiful boats everywhere around us, the Carribean sea, squalls, ... - the list of new and different goes on!

It's hard to express how much you learn when you are so deeply embedded with real salties. For me the realization came two weeks after I flew back when I looked up at the sails of my own boat and saw them like I never had before, knowing what was wrong and what I needed to trim. I will continue to work hard on better trims, inspired by the true seamanship I have seen from Andy, Mia and Paul aboard Isbjorn.
"An amazing and worthwhile experience. The varied weather provided opportunities to sail/navigate in some challenging conditions which is what I really wanted more experience doing. Andy & Mia are true sailors and excellent instructors. I learned a lot and would sign on more often if my budget allowed. I'm so glad I got a chance to join Isbjorn for a passage and truly hope to so again when I can."
"Words simply can't describe the experience I had aboard Isbjörn. The 600 was one of the most physically & mentally challenging things I have ever done, yet under the guidance of Andy and Mia and with the high-level coaching of Paul Exner, I can honestly say that I have come away from the trip with a total sense of accomplishment. My expectations were more than exceeded, and I feel that my overall grasp of sailing has achieved a new level!"
"I can't remember the last time I had a 10 out of 10 experience! I am already looking forward to sailing with you again."
"Sailing on ISBJORN was a transcendent experience for me, something I'll never forget."
"Andy & Mia were an absolute pleasure to sail with! They put together an informative and fun trip on an absolutely beautiful boat."
"I first met Andy as part of his involvement with the Caribbean 1500 in October/November 2011. He also loved our classic style cutter, which also helped establish a rapport.
We maintained contact off and on, until the next year he asked me to join him as crew for the 2013 Annapolis to Newport race. It is through that experience that I can attest to his capabilities as a sailor, a captain and a teacher. In all pre-departure preparations, he kept foremost in his mind the safety and comfort of the crew. During the race Andy was a thoughtful teacher and captain, exhibiting patience, anticipating events and maintaining clarity in his instructions. Andy was always positive in debriefs, as well, which only serves to build confidence in those working with him.
Mia joined us this race, too, and it was wonderful getting to know her better – her knowledge, skills and sense of humor. The two of them make an invincible team! Thanks Andy, Thanks Mia!"
"The journey on Isbjorn impacted me deeply & widely, I'm so grateful. I am listening to all your podcasts and try to keep up with where you guys are!"
"What a treat to sail with the 59 North A-team! It was everything I hoped it would be…good sailing, good company and lots of practical sailing experience. Also, it was a real treat to spend time at the helm of the Swan 48! It has set the bar high in terms of what I'll be expecting from my next boat! Wishing you guys what I'm sure will be continued success!"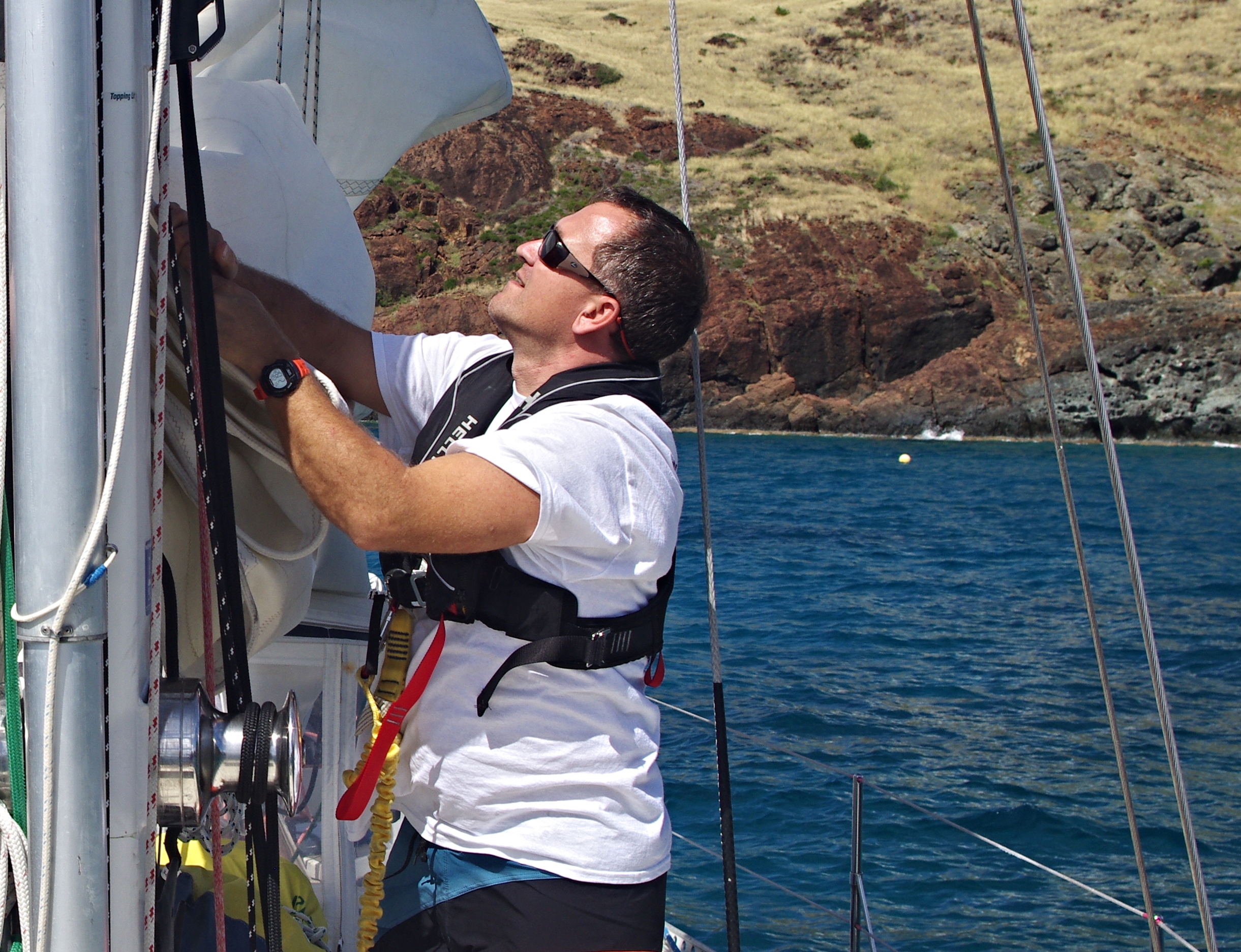 "How do you say thanks for providing a platform, experience, security, instruction etc. to do something that I've wanted to do for decades? The calm sailing seas of the first night, the stars, the bioluminescence, the more lively 2nd run, the sunrise, the boats, English Harbour, the new friends…Be safe out there and keep doing what you are doing. I'm betting that it will provide fruit well beyond your expectations."
"Andy & Mia were great at passing on their significant experience in an easy going way & were calm and professional in an emergency [Andy's appendicitis]. They served delicious food throughout the trip. Isbjorn is a fast, solid & well equipped boat ideally suited to this role. Overall it was a fantastic experience and the trip has given me the confidence to go sailing offshore with my family."
"The passage a wonderful opportunity given our current plan to start cruising in 3 years. It gave me a lot of information on how to setup my boat for a safe passage at sea; the safety equipment on the trip was the best money can buy. The passage gave me confidence. The biggest bonus, 'some say I'm crazy,' but I got my first taste at heavy weather sailing and it was a big confidence builder! I felt safe with the leadership on the boat and learned a lot… Whatever your reason for going on an adventure sail offshore, I highly recommend Andy to be the captain to take you!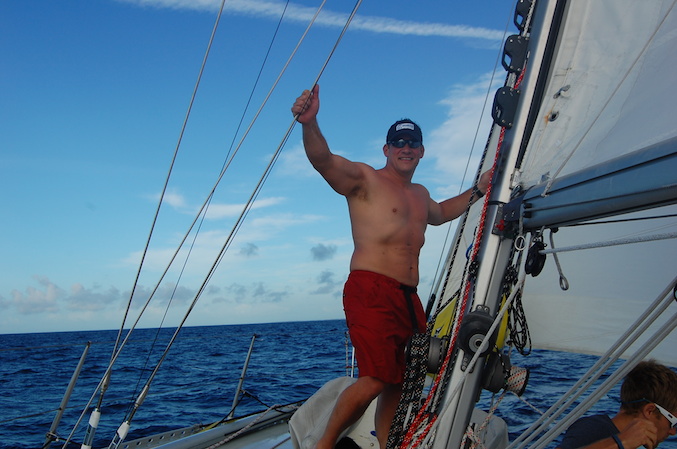 "Sailing with Andy was a great experience and quite an education. I found Andy to be mature beyond his years and his experience and knowledge of sailing is impressive. Andy approaches sailing as an adventure that should be taken advantage of as an opportunity to learn more about yourself. His demeanor around the boat is anything but timid as he is quick to shimmy up the mast or out the whisker pole while underway whether its emergent or just for fun. He keeps a simple approach to systems and figures the fewer systems aboard the less you depend on and the less likely things will break. I would sail with Andy again in a heartbeat as I always look forward to an opportunity to learn from him.
"I learned so much from Andy, Mia and Paul and am grateful for their leadership and willingness to teach so many things. It took a number of weeks after getting home just to digest everything and realize how much the experience had changed me. I went into the trip expecting two main things: 1 - Learn lots about sailing and 2 - Enjoy the race. Both of those expectations were not just met, but exceeded. What I didn't expect was how the entire experience would be so inspiring.
Sailing with Andy, Mia and Paul Exner on Isbjorn was truly a life changing experience. Learning about sail trim, boat balance, spinnaker handling, navigation, headers and lifts...etc So many great takeways! The race we completed was one of the most challenging and physically gruelling trips i have ever been on. But...the greater the challenge, the greater the reward!
Andy, Mia and Paul are truly living their dreams. If that isn't inspiring enough, they are superb at humbly sharing their passion and helping us all reach our sailing goals as well. It was a real eye opener and reminds me that so much is possible with the right knowledge, attitude and perserverence.
If I had to sum up the entire experience in one word, that is an easy choice: Inspiration!"