We arrived on Saturday morning, just before noon. Saudade made a faster passage than I'd expected, averaging about 7 knots for the duration of the 850 miles or so. In perfect weather.

We left St. Thomas on a Monday morning, having to pawn off the bananas to a big schooner that was our neighbor at the dock. Casey and Lindsey had not heard that particular superstition ("It's not a superstition, it's real!," said Billy at dinner the night before we left. He and I enlightened them with many others, including the no shaving rule, no clipping of fingernails, no leaving on a Friday, etc etc.), so the schooner guys benefited from a bag full of bananas.
At lunch at Wahoo's yesterday in St. Georges, Lindsey was trying to come up with some good "There I was…!" sea stories for her dad, but in reality the trip north was a breeze. Saudade sailed faster than I expected (being that it weighs in at just over 40,000 pounds!), and we spent the first three days close-reaching in ENE winds of around 15-20 knots. With no moon, the stargazing was brilliant, and the skies remained clear until the very last few hours approaching Bermuda. We had some enlightening chats about celestial navigation, some good music discussions and some great boat ideas. Casey and Lindsey are getting their own Van de Stadt ready to take the Caribbean next year, so they were eager to get some offshore experience. Casey and I bounced some rigging ideas around, and the both learned a lot about stowage offshore. Casey might actually come up to Annapolis for a bit in May to help re-rig my dad's Sojourner with me and learn a thing or two while Lindsey is off to the Philippines for work.
We ended up motoring the last 30 hours on the final approach to Bermuda. The wind had gone round to the south and then southeast ahead of the predicted SW flow that would accompany a weak cold front. When it shifted south, it died, and for a while we had only about 5 knots blowing on on the starboard quarter. The seas quieted down considerably, and we had a pretty comfortable motor boat ride.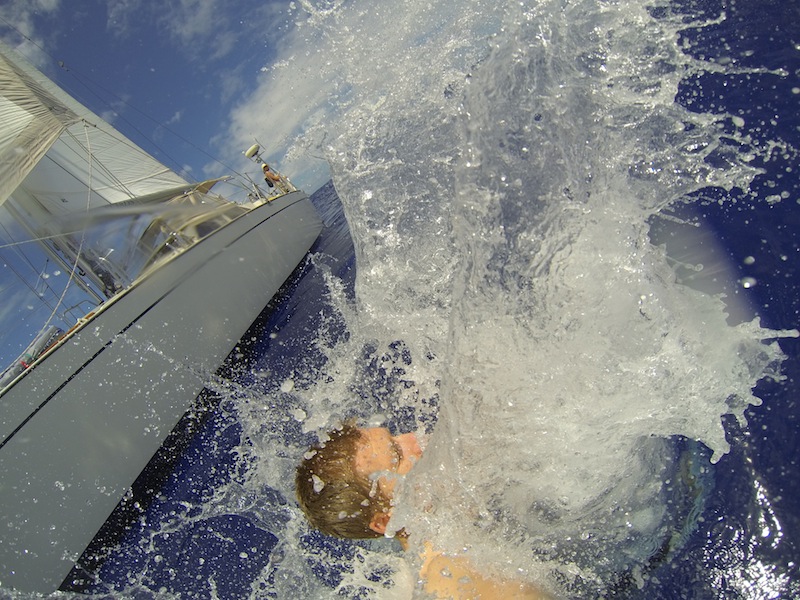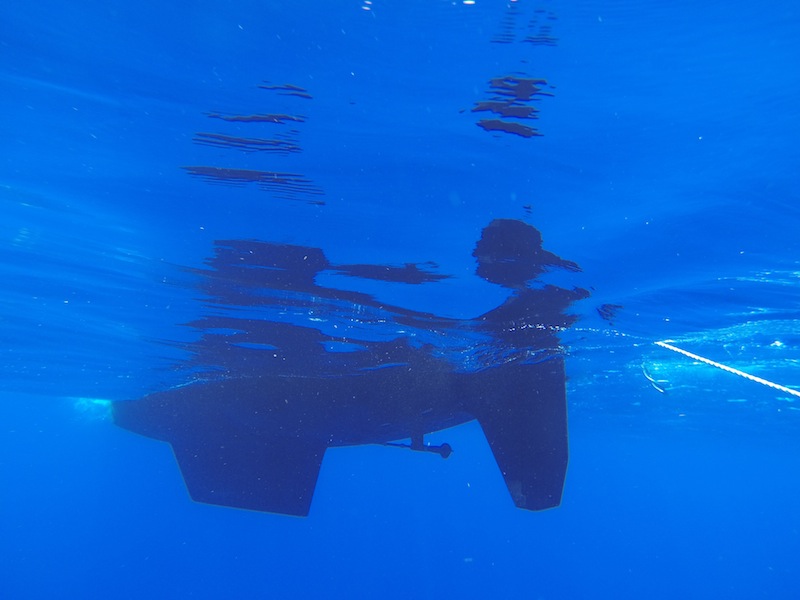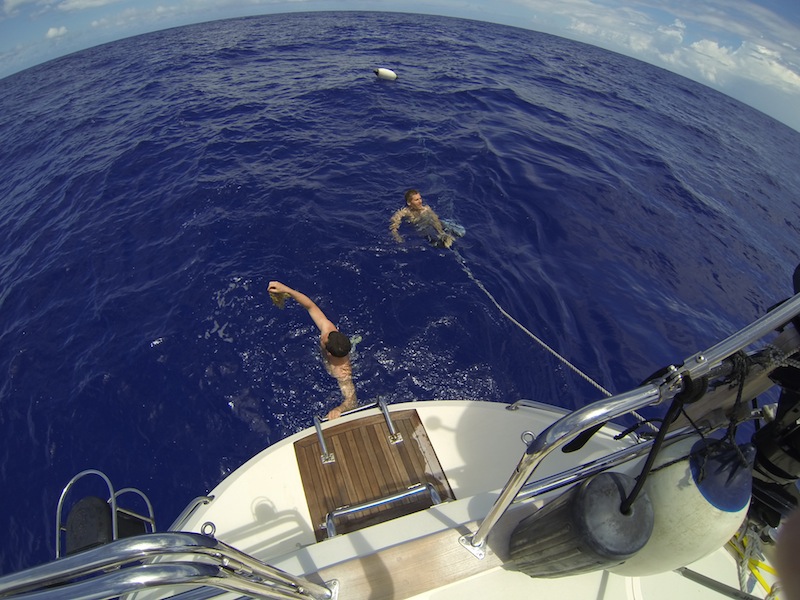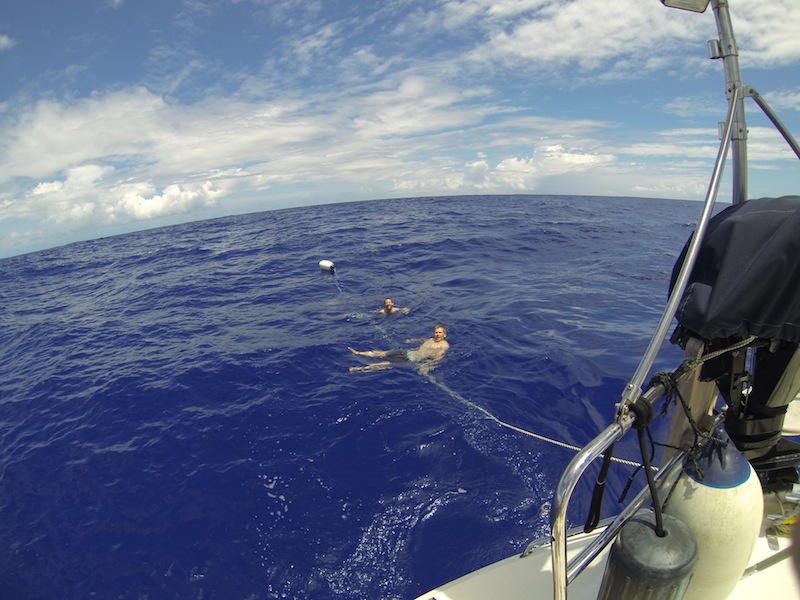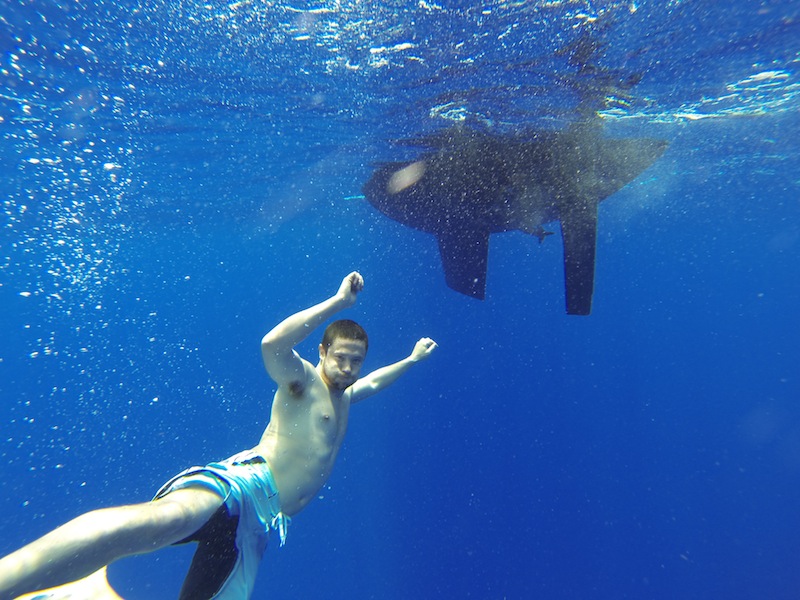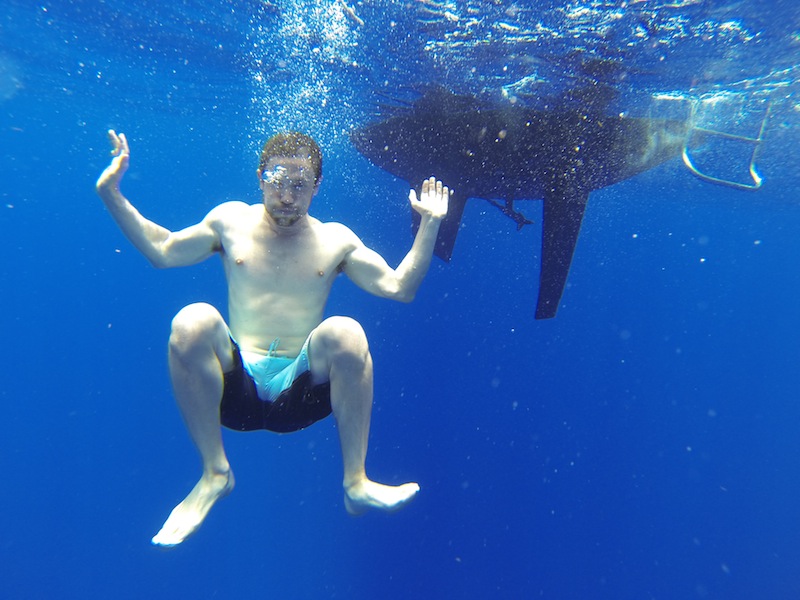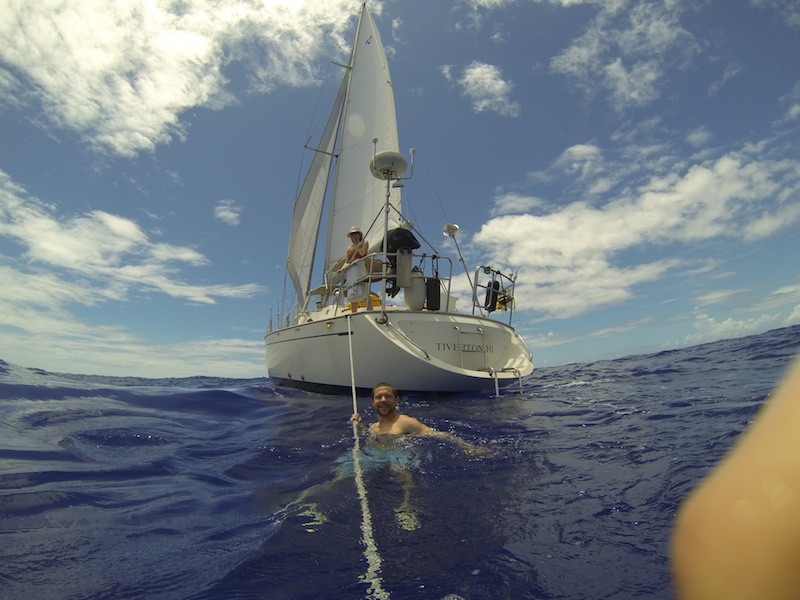 But as if to give us a good finale (and appropriately round out Casey and Lindsey's first foray into ocean sailing), the breeze built out of the southwest just when Bermuda hove into view and we hoisted the yankee onto the spin pole and sailed the last 15 miles or so wing-on-wing towards Town Cut in St. Georges. The friendly voices of Bermuda Radio welcomed us as we rounded St. David's.
The only niggles the boat suffered en route was when the block on the running backstay exploded at the deck fitting (which was easily repaired with a spare). As we sailed the last 5 miles towards Town Cut, I noticed a small screw that holds in place the Leisure Furl in-boom furling system had started to back out. We lowered the mainsail and decided to deal with it in port (which we did this afternoon successfully), and sailed the rest of the way through the cut with just the yankee. I love making landfalls under sail, feel like it's somehow more appropriate and more exciting, more rewarding to sail into a new harbor rather than run the diesel. We did have to motor through a header in the cut itself, but then sailed again right up to the customs dock where Lindsey's parents were waiting for us. Her and Casey go home to work tomorrow, while Lindsey's dad Dave is joining BIlly and I on Saudade for the next leg north to Rhode Island.
We ended up securing a fourth crew member, a dude named Austin (ironically from Texas), who Mia connected with on Facebook while we were offshore. Austin eerily reminds me of myself not too long ago - he's 23, just out of school, dying to go ocean sailing and reading all the same books and magazines that I read (and still read - I smiled when I saw Eric Hiscock's Around the World in Wanderer III in his gear bag). He's only been offshore once before, a short hop from Charleston to Ft. Pierce, so this will be a pretty cool experience for him.
So yesterday after our red meat meal at Wahoo's, Lindsey, Casey and her family went off to explore the island, and Billy took the laundry up to his friends' house down the road in St. Georges to wash up. They work at a research place here in Bermuda called BIOS, and share an awesome house up on a hill overlooking the ocean. Austin and I ended up going up there last night with them for dinner (one dude named Andy had been out lobster fishing, so we had fresh caught lobster carbonara pasta! This after a giant steak for lunch. It was a good eating day for the crew of Saudade!).
Meeting everyone up there reminded me how much I like to travel and have these experiences. Sitting around chatting with likeminded, adventurous people is so refreshing, so exciting! I'd only just met them, but we could all relate, and I love that. Billy stayed the night there and Austin and I hiked back to the boat around 10pm., I particularly enjoyed the hour-long walk as a chance to stretch my legs after 6 days at sea.
And Austin and I had a great chat en route. Turns out he is more similar to me than I even thought. His mom passed away from brain cancer last June, only a few weeks after my mom did, and he's been living at hid dad's place, each of them helping each other through the tough times. And he owns a Contest 31 that he's been refitting over the past couple years. We got in a long conversation about him wanting to go engineless, which really reminded me of myself, and I did my best to talk him out of it by explaining our failed outboard idea and the fact that were putting a new diesel in Arcturus this summer. But if he's really like me, he won't listen and will have to figure it out for himself. Which I can't even blame him for, because I did (still do) the same thing.
This morning I tried to sleep in, managing to make it to 7:45 before I woke up. Austin and I had coffee on the boat and then I headed out for a long run, still my favorite way to explore a new place (even though I've been here before). That July marathon in Sweden is sneaking up on me, and I've spent so much time at sea lately that I haven't been able to train. I went out a little fast this morning, just really happy to be running (and listening to the Yeah Yeah Yeahs, which pumped me up), and just about died after running the first two sprints up Fort George Hill to the Bermuda Radio station. I slowed my pace a bit after that, running along the old Railway Trail system on the ocean side behind St. Georges town (stopping to watch a bunny grazing in the grass with a couple of roosters).
On the way back I hit the Fort George Hill again, three times this time, to finish the day off with a nice round total of five. The hill is the perfect training hill - its long, taking over a minute to ascend, and it's got three distinct pitches, getting gradually steeper as you go up. The first bit I do at a slow jog, trying to control my breathing, then increase my pace slightly at the first bend when the pitch increases. By the last turn, it gets pretty steep, and I sprint the last 100 yards or so. I always make a point to stay on my feet and stand straight up no matter how tired I am. You never see the first place guy in a cross-country skiing race collapse across the finish line - but the second place guy seems to do that all the time. It's mental toughness.
Billy returned then around 11, and he Austin and I successfully fixed the mainsail furling system (which by the way, is NOT recommended for going offshore. It's too complicated and too fragile - ocean going boats ought to stick to slab reefing).
And that pretty much brings me up to speed. I'm back in Wahoo's again (they have Internet), and I'm on my second cappuccino as I get some work done before we put to sea again. The plan is to depart tomorrow after taking on some water over at the gas station, and it looks like we'll have about a four-day passage up to Portsmouth, Rhode Island. Check back on 59-north.com during the week, as Mia will be posting updates as usual. Thanks to those of you who have been reading!