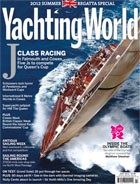 Greetings! We're in Lagos now, enjoying having completed our second Atlantic crossing in as many years. It's a nice feeling being able to put the boat away for good now, give it a last big cleanup and get all the salt off. Now we can relax.
So, June and July are big months for Mia and I in the published world. We have articles and photos out in many of the big sailing magazines currently on shelves now, and have included some links where the articles are posted online. TheYachting World piece on Matt Rutherford is only available in print, I'm afraid. I don't know why we didn't think of linking these articles in real time before, but we'll try to do it from now on. Click the 'Read More' button to go to the links.
Yachting World,July 2012: Matt Rutherford Completes Solo Around the Americas.
SAIL Magazine, July 2012: 'A Long Honeymoon to Europe'
Ocean Navigator , July-August 2012: 'Family Weather Routing'
Note: you can download for free the .pdf versions of each All at Sea magazine on their respective homepages. All at Sea Southeast is the magazine I have been editing since March.
All at Sea Caribbean, June 2012: 'Martinique to Windward'
All at Sea Southeast, June 2012: I have several articles in this one (as the editor), and Mia has many photos. Dad even has one too.
'Editor's Desk: Sailing Yachts & Mooring Balls'
'Matt Rutherford Completes Around the America's'
'Pro Tips: How to Unwrap a wrapped prop' (by Dennis Schell - aka Dad)
'Carolina City gets Mooring Balls'