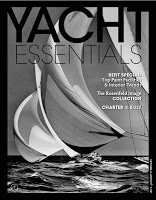 Good morning! The Yacht Essentials archive is now fully up to date and complete. Eleven articles I've had published in that there magazine are now online for your viewing pleasure. So far, that's the only archive fully up to date - I'm working on the rest. You can see each and every full issue of Yacht Essentials by clicking here, for their online archive, or by clicking on the cover image to the left.
As it so happens, I am also the editor of the Yacht Essentials Portbook annual guide for megayachts (100-feet-and-up). We're just getting to work on the 2013 edition, so look for that to come out this summer sometime.
Finally, All at Sea SOUTHEAST launches soon! More details to follow...