Greetings and happy Friday! I'm taking this week to formally introduce the new magazine I am editing now, All at Sea Southeast.
It's somewhat of a sister magazine to All at Sea Caribbean, published by the same people and using the same style. It's a conglomeration of all things waterfront, covering the region from the mouth of the Chesapeake to east Texas, from sail, power, fishing, surfing and everything in between.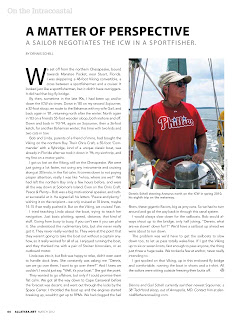 We have a couple high-profile writers joining us, which makes me proud. Fatty Goodlander is onboard, and has been reminiscing about his times in the Southeast. Likewise, Donald Street is writing for us, and has some stories of his own from the region. We got a full-page original Rosenfeld image of the yawl Street writes about for March, which made a beautiful spread, so don't miss that. And in an upcoming issue, we'll have some editorial from yacht rigger Brion Toss, famous for his Rigger's Apprentice book, practically the bible to many cruising sailors. The magazine should be available online at allatsea.net shortly, as we get everything organized.
In the meantime, check out my editorial from the inaugural issue, available by clicking the image here, or on the archive page. I've also included a back-page article that my dad contributed, an old story from one of his 9 transits of the ICW.
We're always open to new ideas and on the lookout for new contributors, so shoot me an email at andy@allatsea.net if you want to give your two sense. Hope you like it, it's been a lot of hard work by a lot of dedicated people.