Yesterday my marina neighbor John was watching me climb around in the cockpit locker of my boat, tangled in battery cables and covered in engine grease. It was the 18th day in a row that I've put over ten solid hours of work into the boat. He asked me where I got my motivation; it was an easy answer – in two months, I'll be sailing towards Sweden, and the boat just has to be ready.
As I write, it's late in the evening and I've just finished yet another 10-hour workday, the 19th now since returning from Sweden on April 1 ('nothing goes to weather like a 747!'). I left my fiancé Mia back in Stockholm to finish up her university degree and plan our wedding (!). Returning April 1 would give me exactly one month to finish fitting out the boat, a project we started in earnest last summer in Annapolis where we spent three long months living in the boatyard while we took the boat apart just to put it back together again.
Arcturus – our 35' Allied Seabreeze yawl that is going on 50 – needed some shoring up for the North Atlantic. But we're almost there, which is a good thing, as I've barely a week and a half left before 'real' job obligations finally take over and I have to leave town again.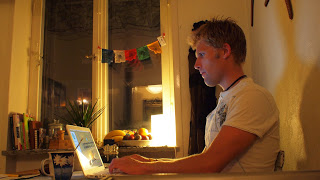 Writing in Stockholm, mid-winter 2011
The plan to sail to Sweden has been evolving ever since we bought the boat in 2008 on the Chesapeake Bay. The story of the sale is an emotional one, filled with serendipitous moments (which I live by). Mia and I took delivery only two or three days before heading to St. Martin for the summer to skipper a boat full of teenagers for Broadreach. Since then, Arcturus has gone through stages of being lived on, worked on, and left under a cover for long periods as Mia and I bounced around between Sweden, St. Martin and Annapolis, trying to figure out how to sustain a life without real jobs. We'd always dreamed of going ocean sailing, but never really had a destination in mind, and didn't really put much effort into fitting out our boat in earnest, as we had no specific plan. Then we got engaged. As the wedding would be in Stockholm, that became the obvious goal.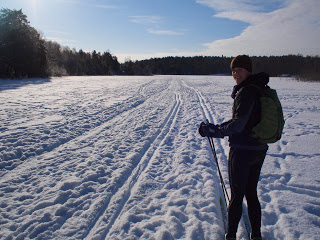 Mia, skiing on the ice in the Stockholm Skärgård
I've always believed that once you make a decision to do something, the world sort of lines things up in such a way as to make them possible, even probable. Ideas take on a life of their own once they leave your subconscious. Thus began a two-year period of strange coincidences and opportunistic meetings that have given us the confidence to even attempt this voyage.
It's only recently that I've begun studying charts for the route which, serendipitously, were given to me by Yves Gelinas – the inventor of the Cape Horn windvane who circumnavigated via the Southern Ocean in his Alberg 30 – after we met and took up a correspondence. We'll sail north from Annapolis towards Halifax. If time permits, we'll cruise the Nova Scotian coast before setting off towards Ireland, the west coast of Scotland and the North Sea. The pilot charts indicate a 50% chance of fog along the Canadian Maritimes in June/July (not to mention potential icebergs) when we'll be passing through. Once off soundings east of the Grand Banks, we'll be sailing generally along the path of the Gulf Stream as it branches towards the UK, which may give us half a knot or so. But the frequency of gales is a bit higher that far north, and the sustained westerly's we should experience are in the Force 4-6 range. I spoke to a friend of mine who sailed that route single-handedly a few years ago; "there'll be plenty of wind, and get ready to get wet," was all he said. We hope to cross the North Sea by September before the winter (and the gales) kick in. People ask why we don't stop off in Bermuda and the Azores, the more typical route across the pond; well, because that's the more typical route, and we're up for a challenge.
But today, the North Sea might as well be the moon. Arcturus is coming along, for sure – the engine is mounted again (though not connected to anything), the steering system is on the re-assembly phase, the new sails are being stitched, the Cape Horn windvane is installed (well, almost), and I nearly have a working electrical system. If I think about it, the work that still remains to be done seems overwhelming and impossible. And yet when I think back on the last 19 days, I've already achieved the impossible.
At the moment, I'm exhausted. When we set off in June, I'll be ecstatic. The idea lives – there's nothing to stop it now.