Selling Arcturus - REDUCED! $USD 39,000.00 - SOLD!
1966 Allied Seabreeze Sloop/Yawl, Hull #56
Mia and I never really thought this day would come. But just yesterday, we delivered Isbjorn to Annapolis from Connecticut, and our sailing careers officially evolved. Alas, like a good woman, my heart can't be with two boats. I only hope I can find the perfect owner for Arcturus so she can continue the adventures we started on her.
So here's the deal - whoever buys Arcturus is getting the deal of the century. You never recoup the money you put into a boat, I understand that, so she's very under-valued if you look at the dollars that went into her (about $35,000 under our watch, and another $35k under the previous owner). Arcturus is a true classic, and is as turn-key as you'll ever find in a used boat - you could sail her around the world tomorrow if you wanted to, in perfect safety and comfort.
Arcturus is also VAT-paid in Europe, yet remains American-flagged and USCG documented. Mia and I kind of envision that she ought to go to an adventurous couple who could start a long-distance cruise in the Baltic and not worry about VAT issues! We imported her into the EU in England in 2011, after our crossing.
We're asking $39,000, firm - vastly less than she's worth. Arcturus is truly greater than the sum of her parts. See below for a complete listing, plus a timeline of the work we've done to the boat and the cruising we've enjoyed. It's comprehensive, and we'll be updating this page as we think of more stuff. Contact us if you'd like more information or are serious about making a purchase. She's currently lying in Gullberg's Marina in Vasteras, Sweden, under winter cover and de-rigged (since Sept. 2014). You won't be disappointed!
-Andy & Mia, 2015
ABOUT THE ALLIED SEABREEZE
Arcturus is a 1966 Allied Seabreeze yawl. She can be rigged as a sloop if desired, as the sail area from the main and genoa are exactly as they were with the sloop - the mizzen is extra. Her only design difference is the split backstay chainplates to accommodate the mizzen mast. If rigged as a sloop for ocean sailing, I'd suggest rigging two independent backstays, one to each chainplate, for redundancy. She currently has the split backstay rig with the mizzen.
Allied's were built in the 1960s and 1970s in Albany, New York, and had a phenomenal reputation as a builder. In fact they're widely credited as building the first production yacht of fiberglass to circumnavigate (that being the 30-foot Allied Seawind ketch). Arcturus is a smaller sistership to the famed Finesterre yawl, by S&S, which won the Bermuda Race three times in a row, in the 50s and 60s. MacClear & Harris, the Seabreeze designers, had in fact worked for S&S before forming their own company and drawing the Seabreeze. They'd go on to draw and develop multihulls in the early days of those designs.
Allied built 135 Seabreeze's into the early 1970s. The earlier boats were the 'bronze' boats - the centerboard and all port lights and fittings (stemhead, etc) were of bronze, as opposed to aluminum in the later 'Citation' models. These boat's are generally more desirable, and Arcturus, built in 1966, is indeed one of them.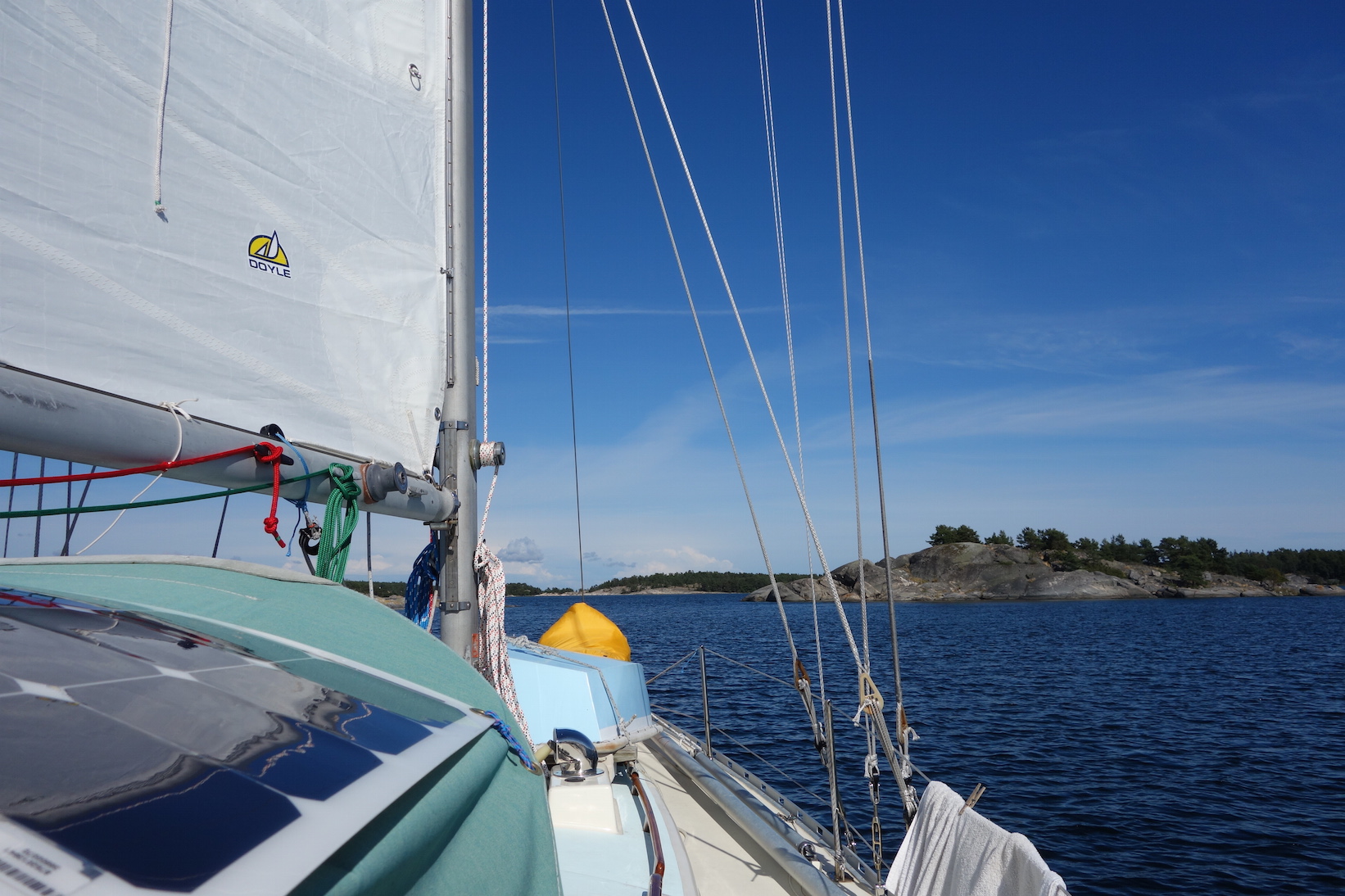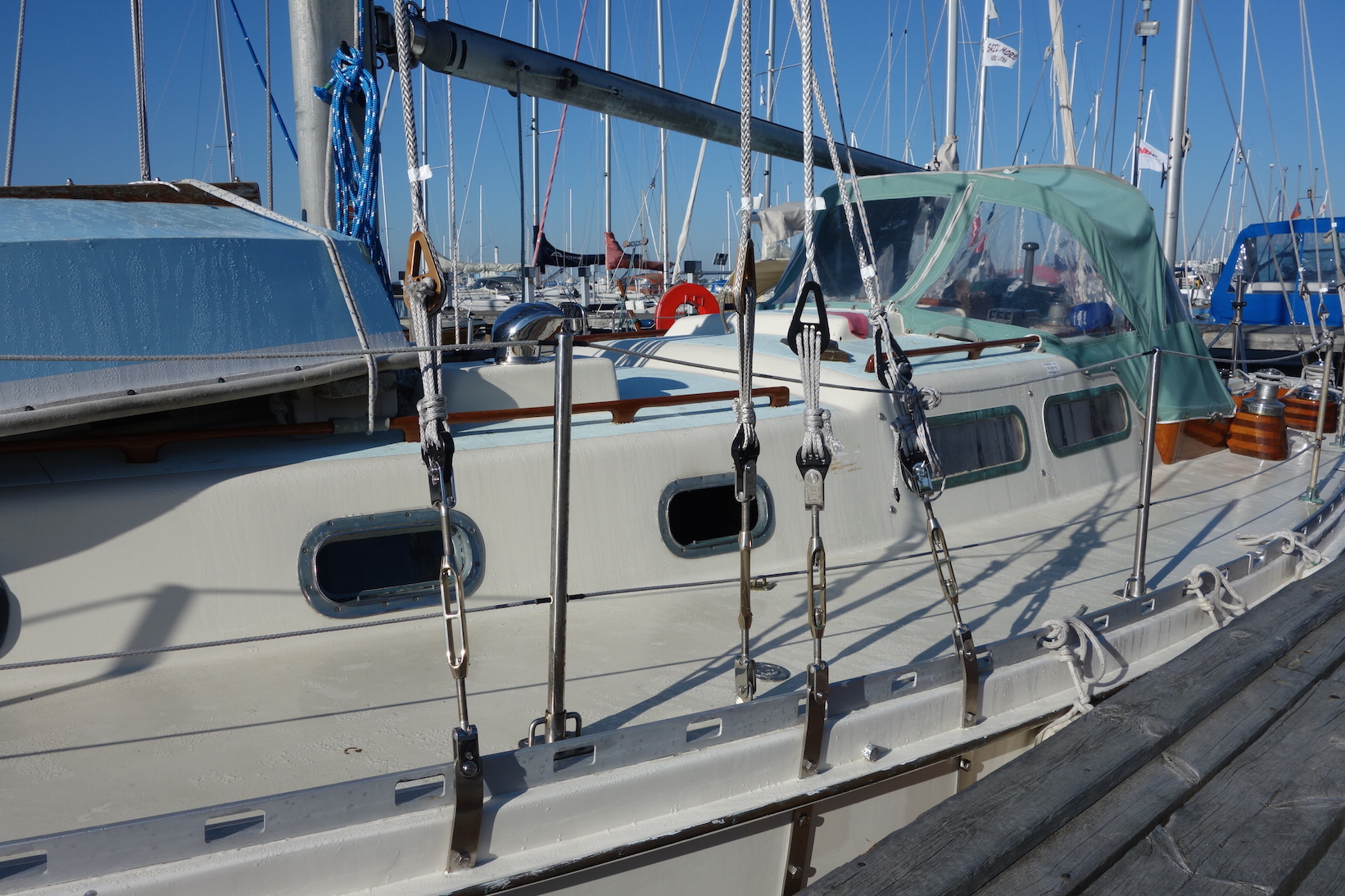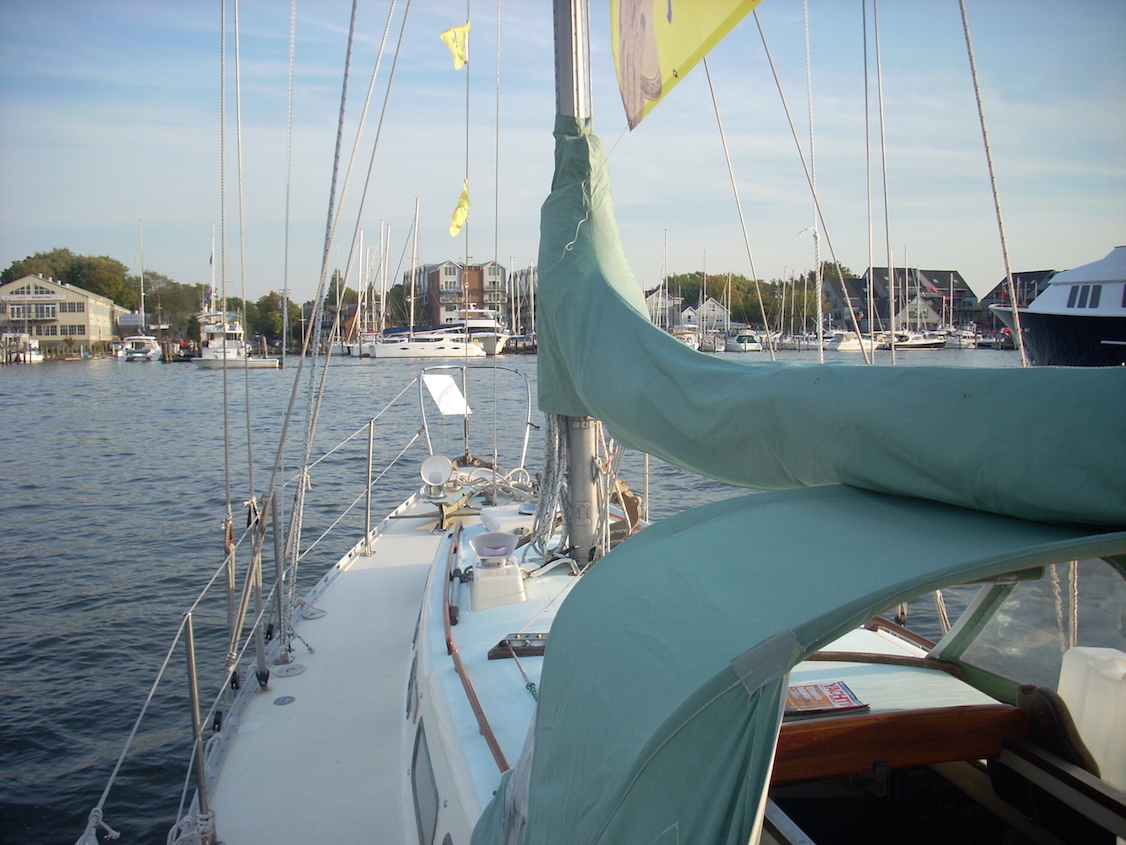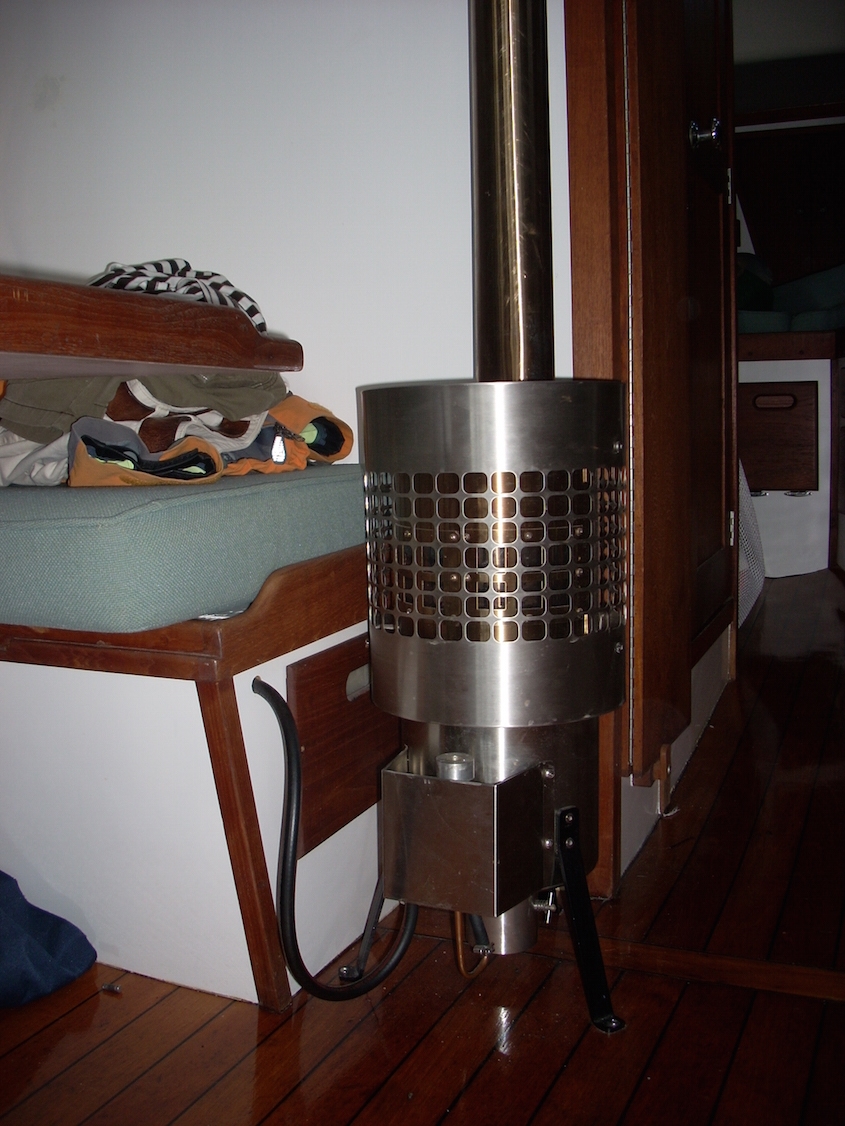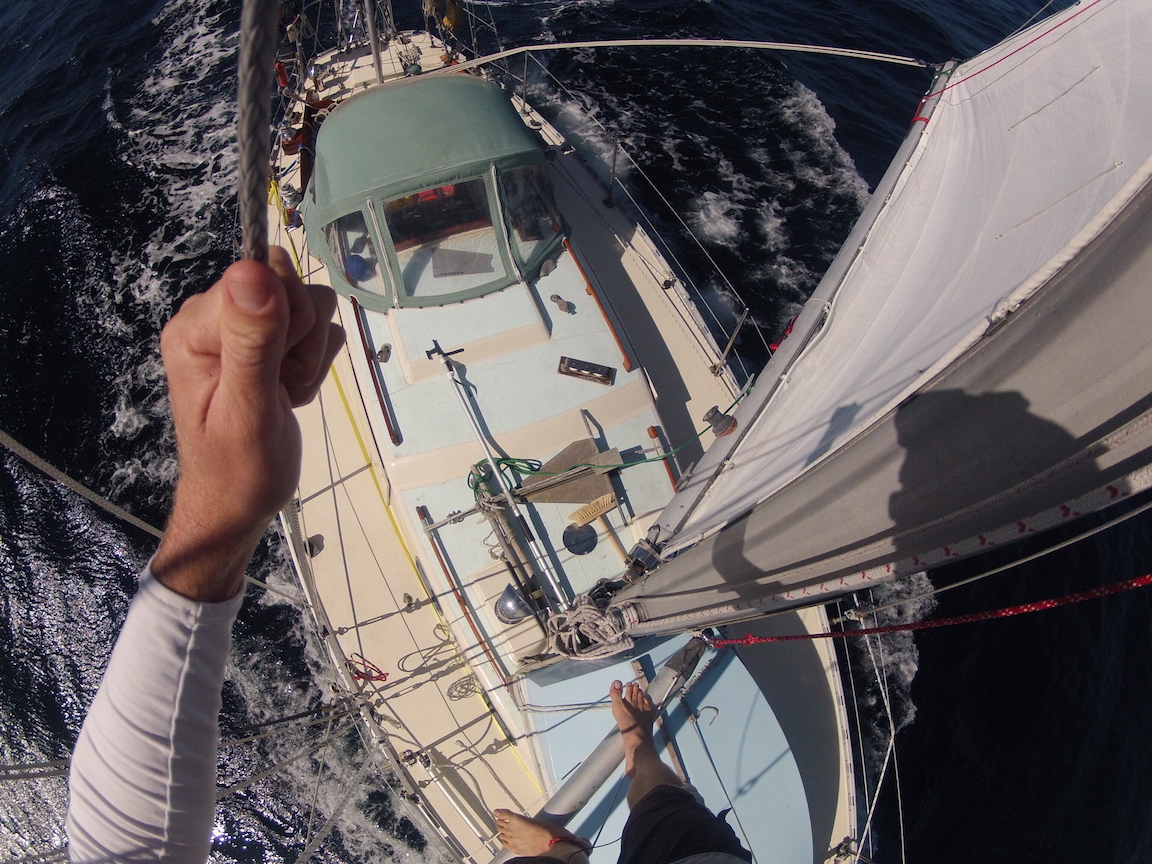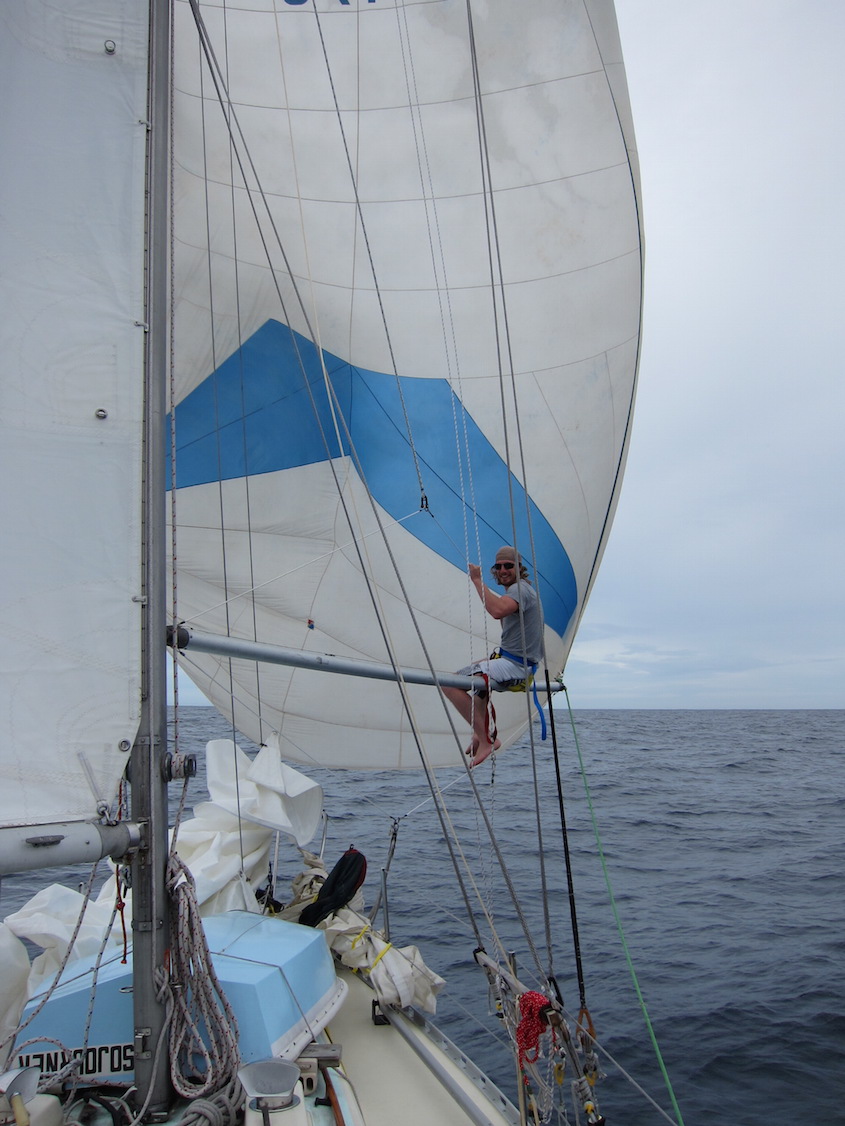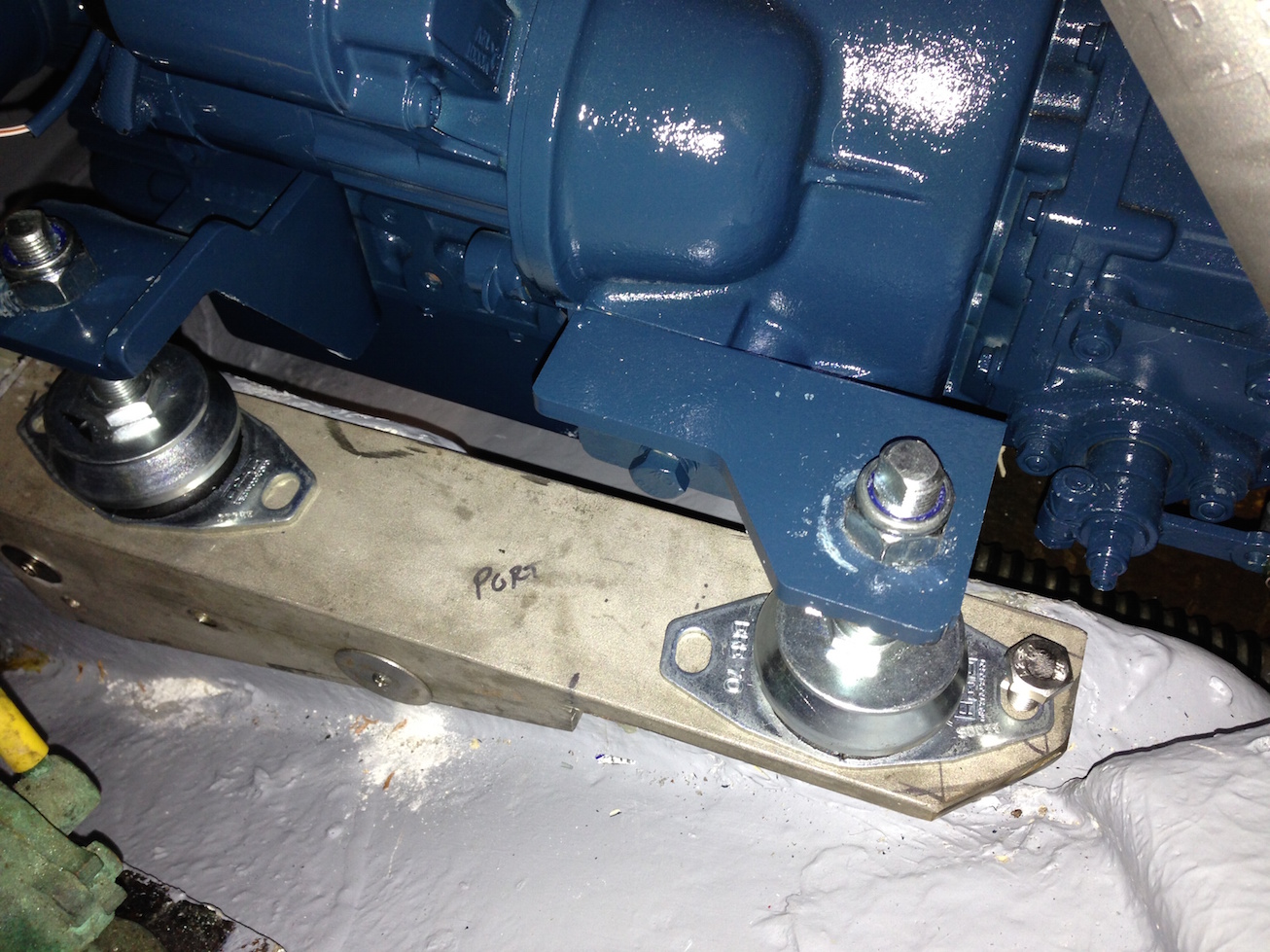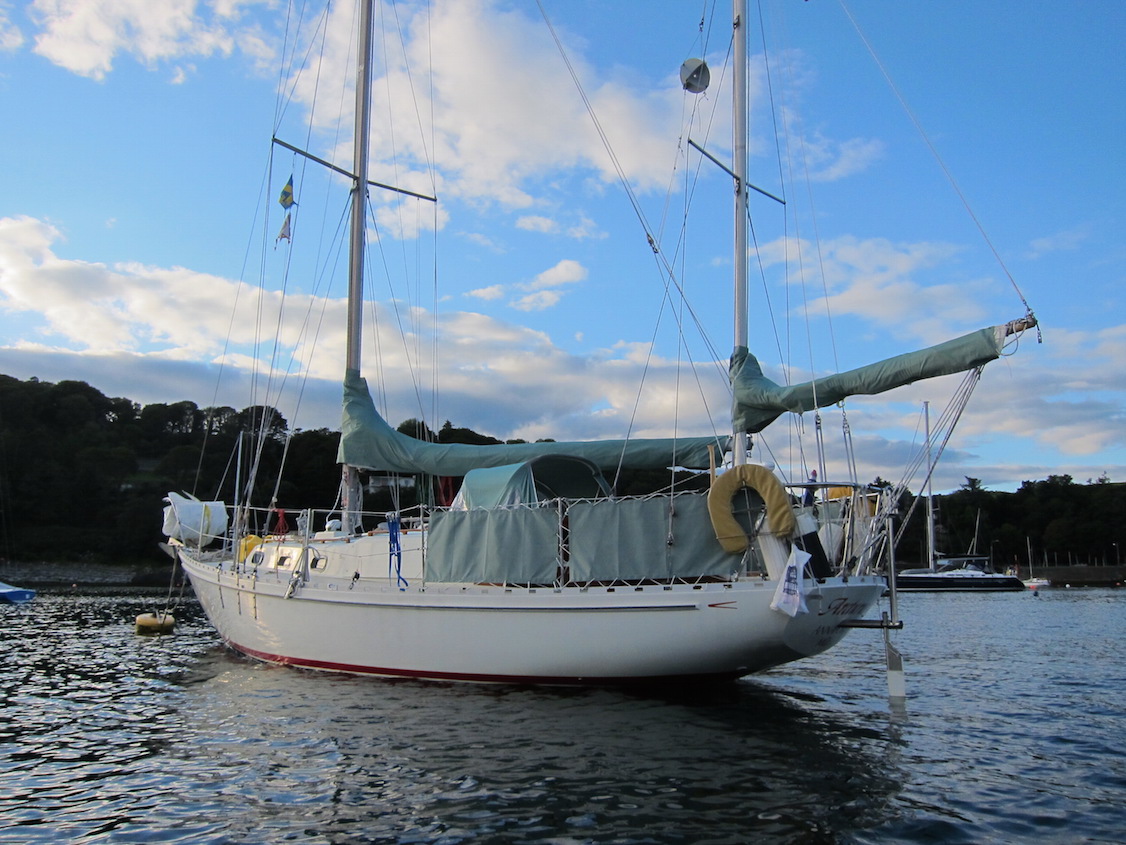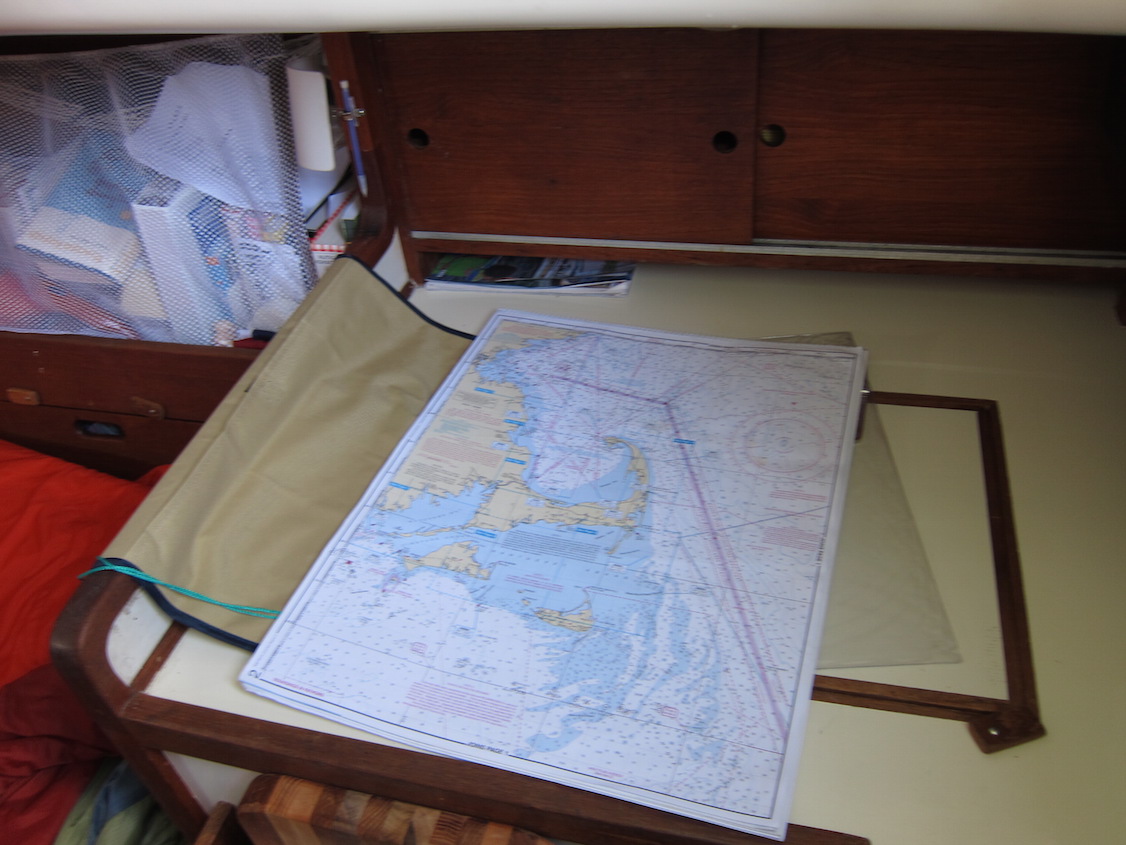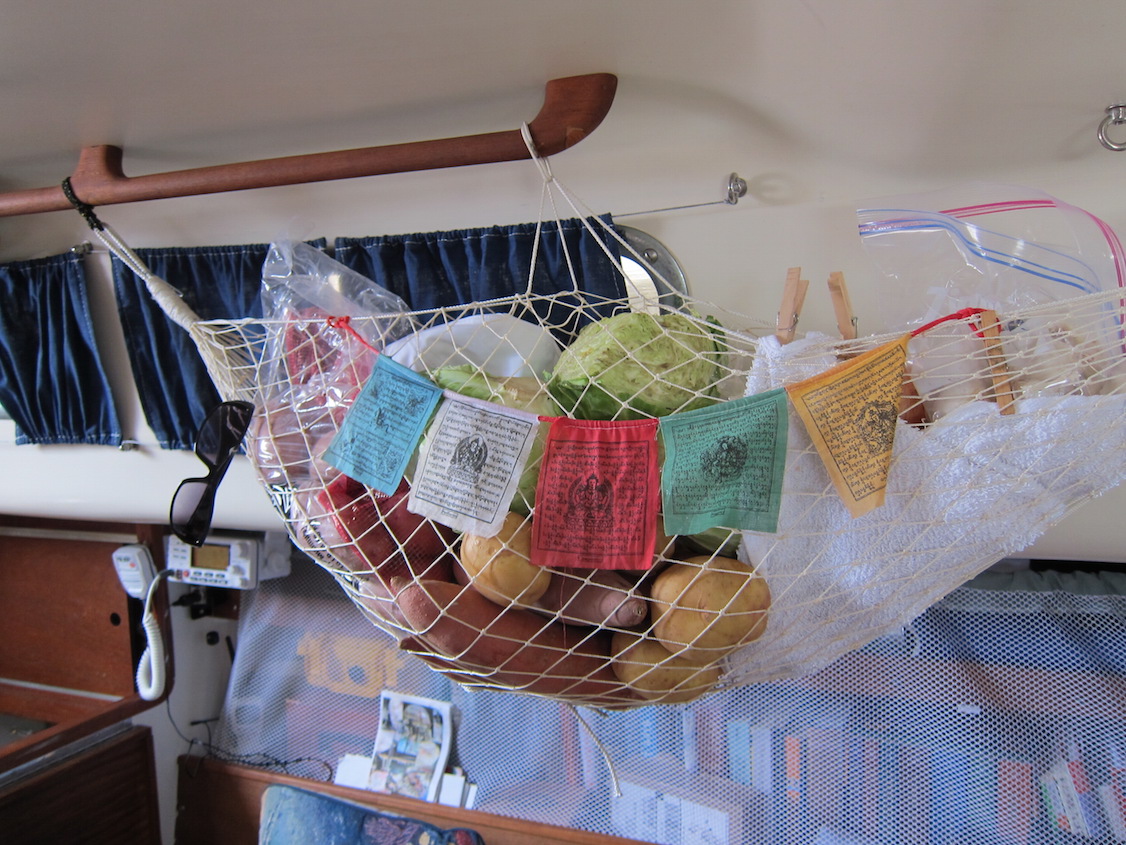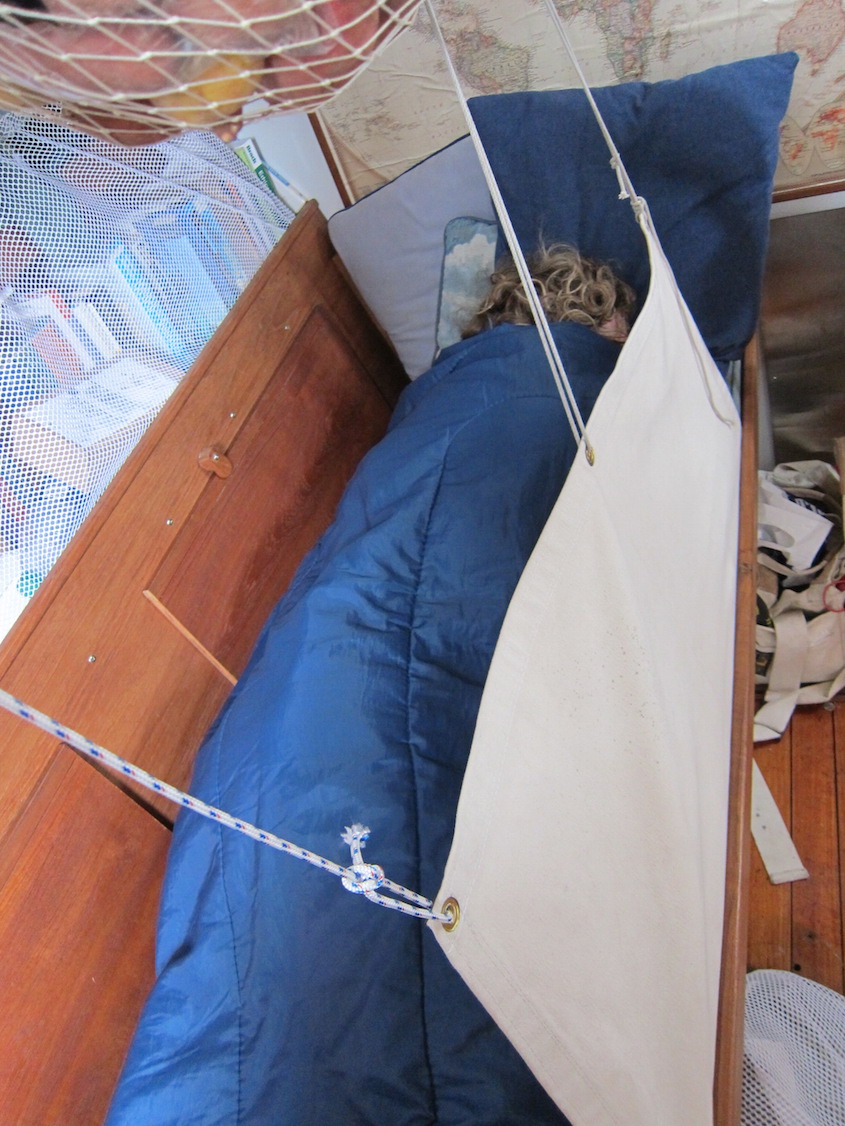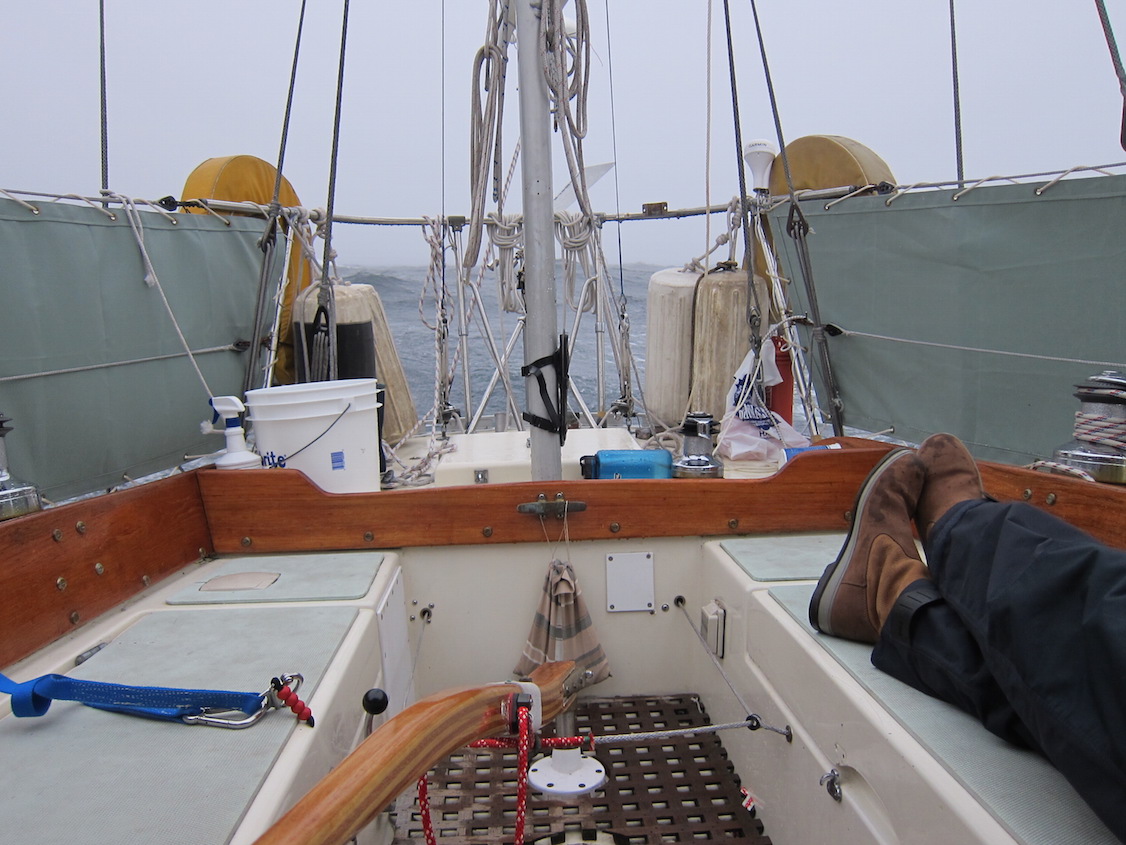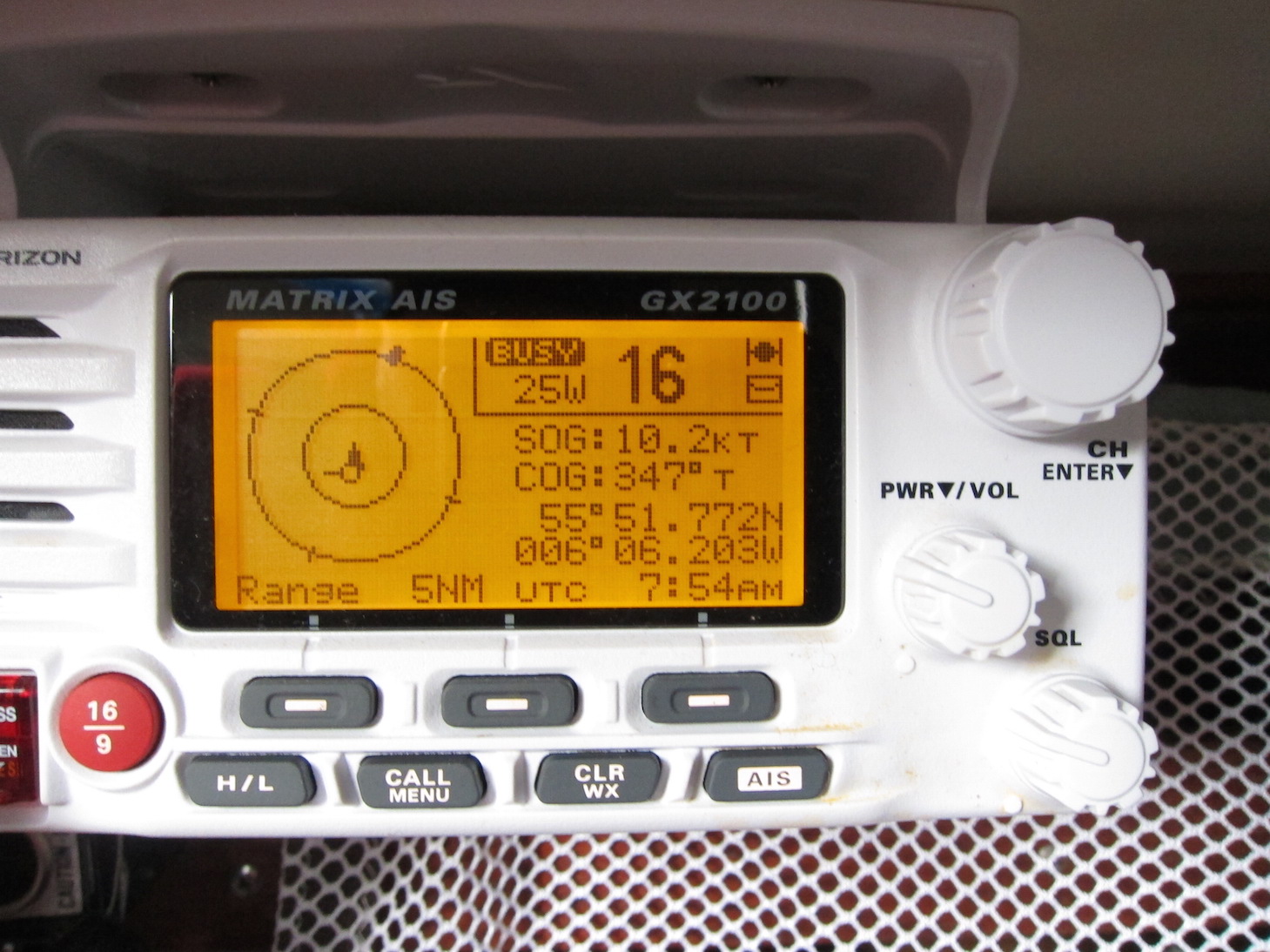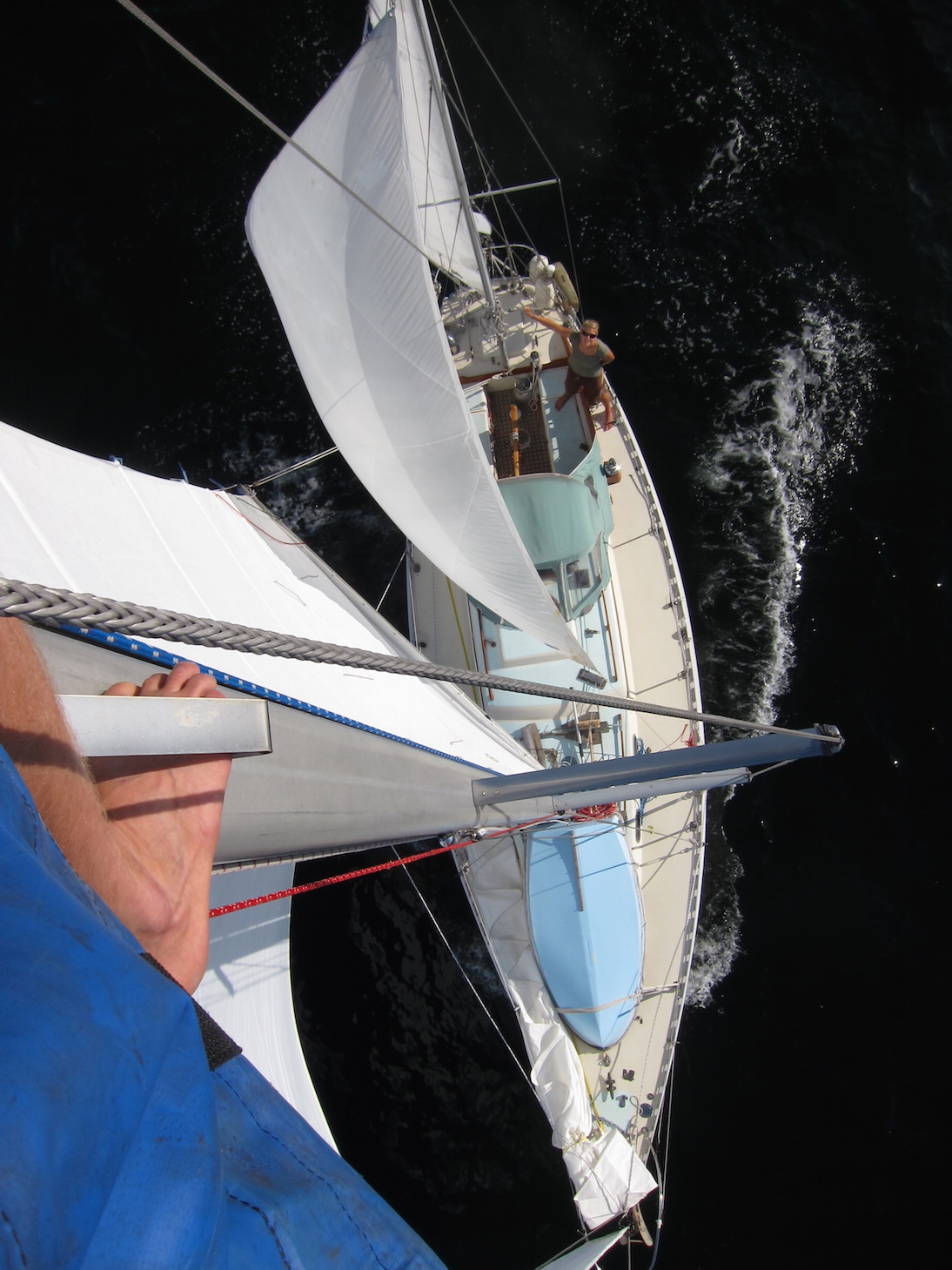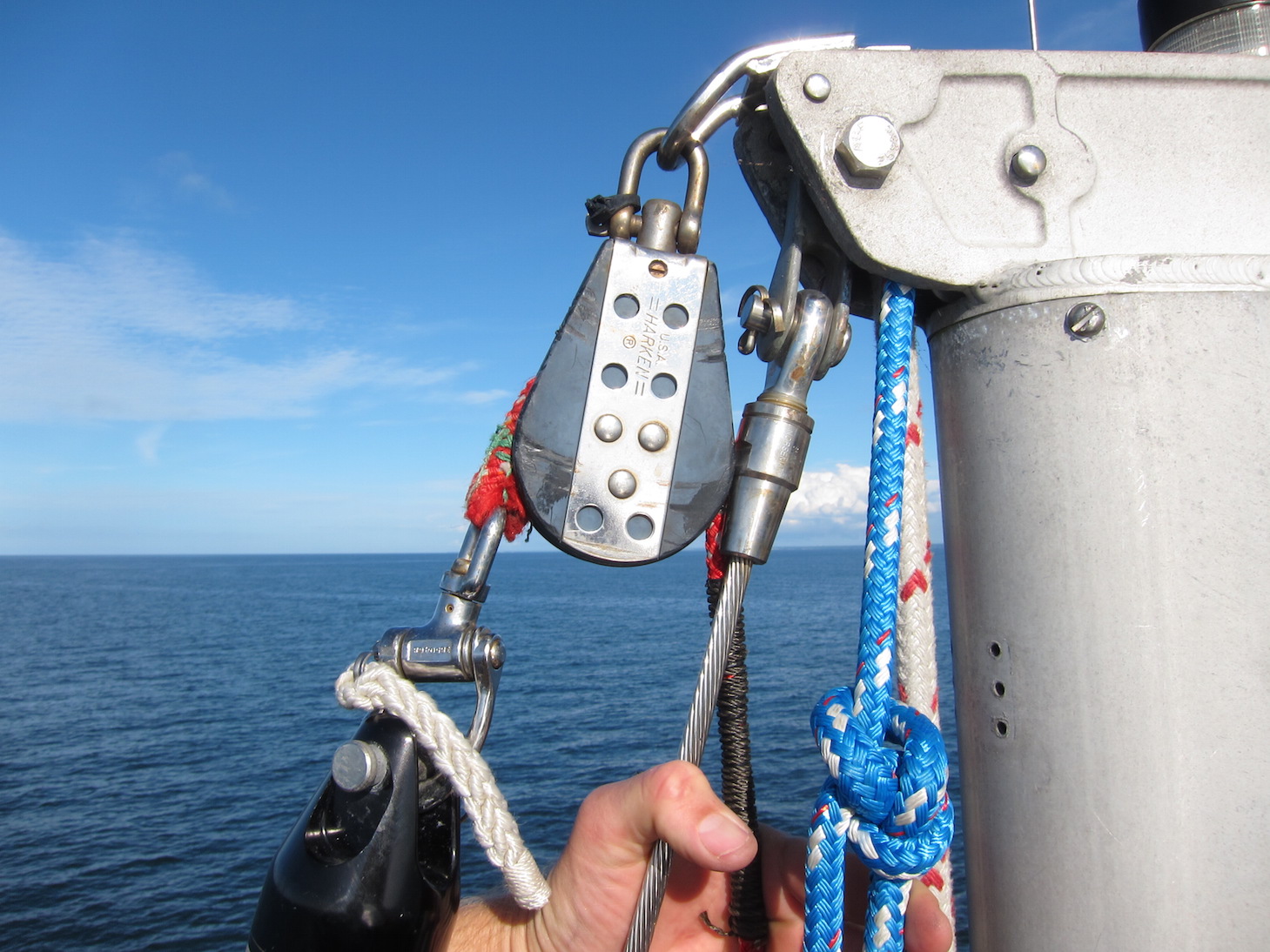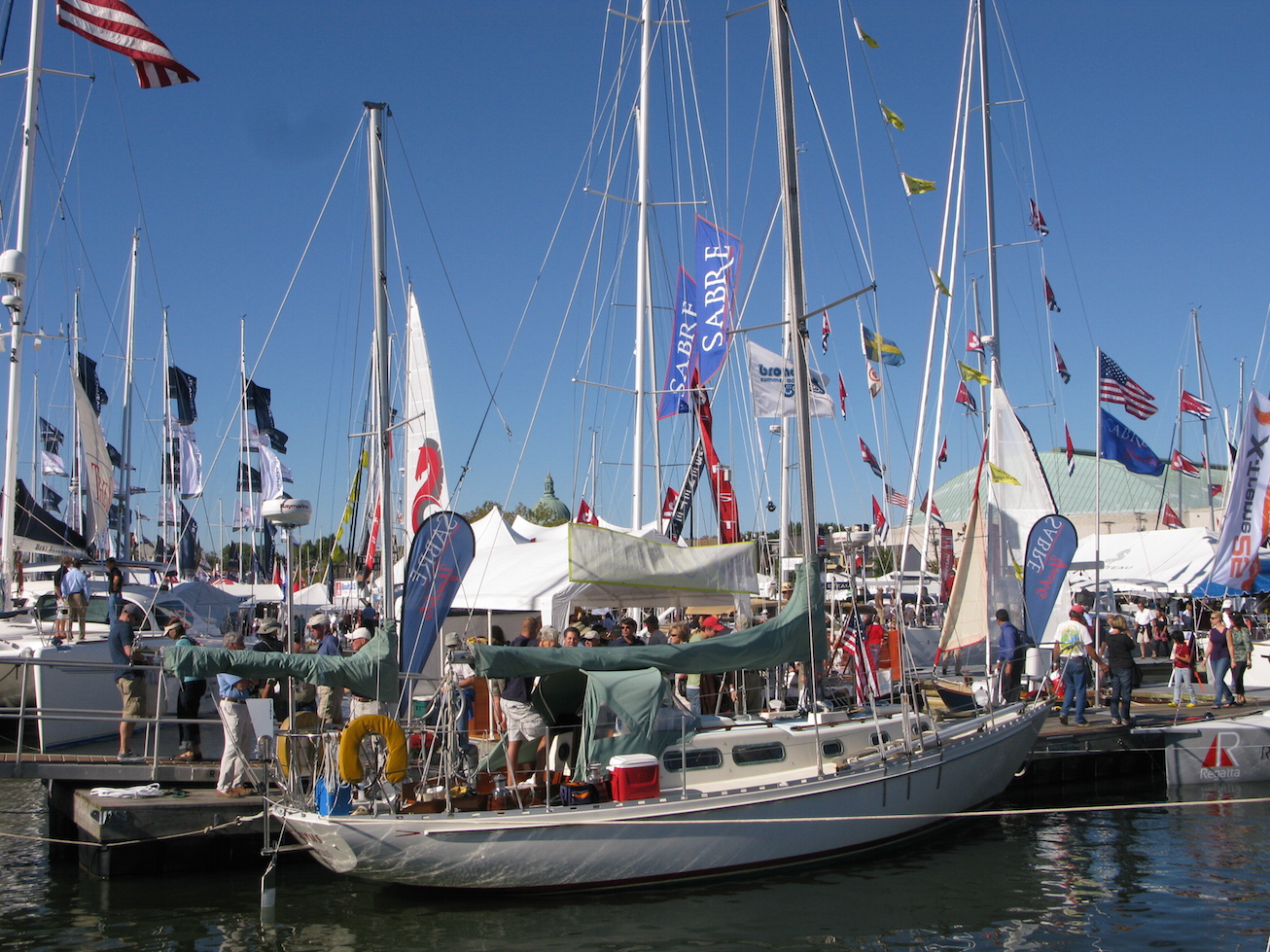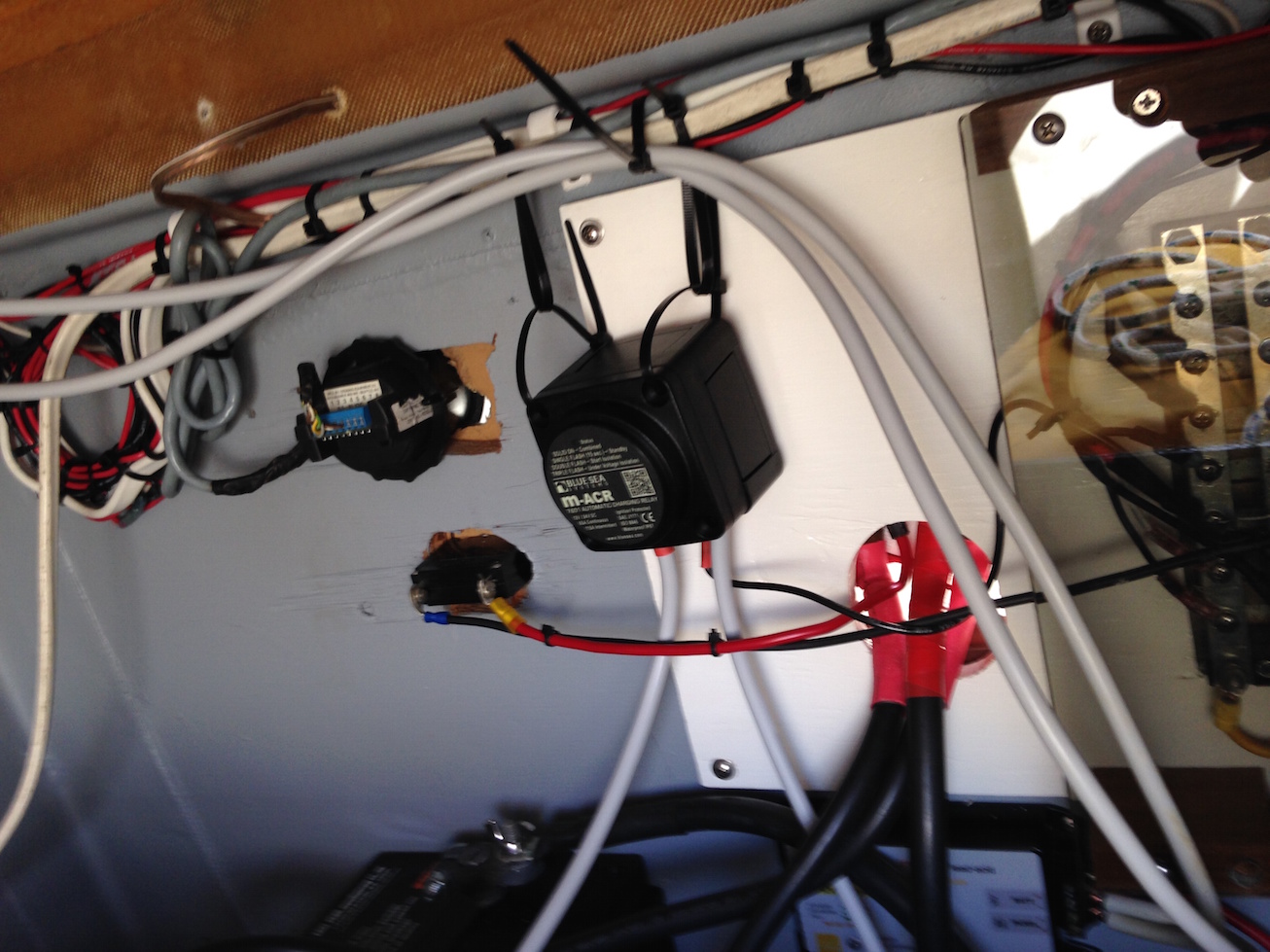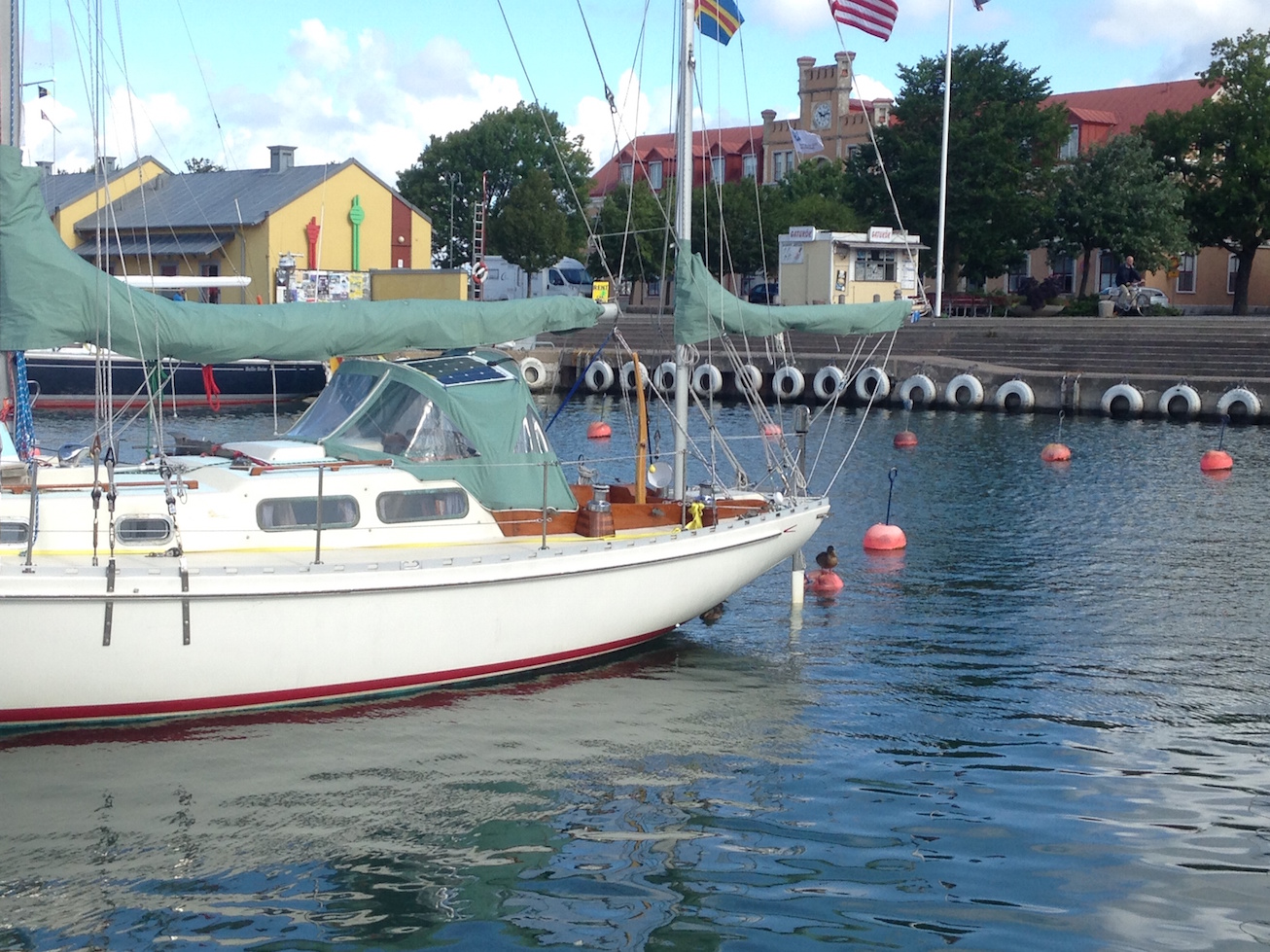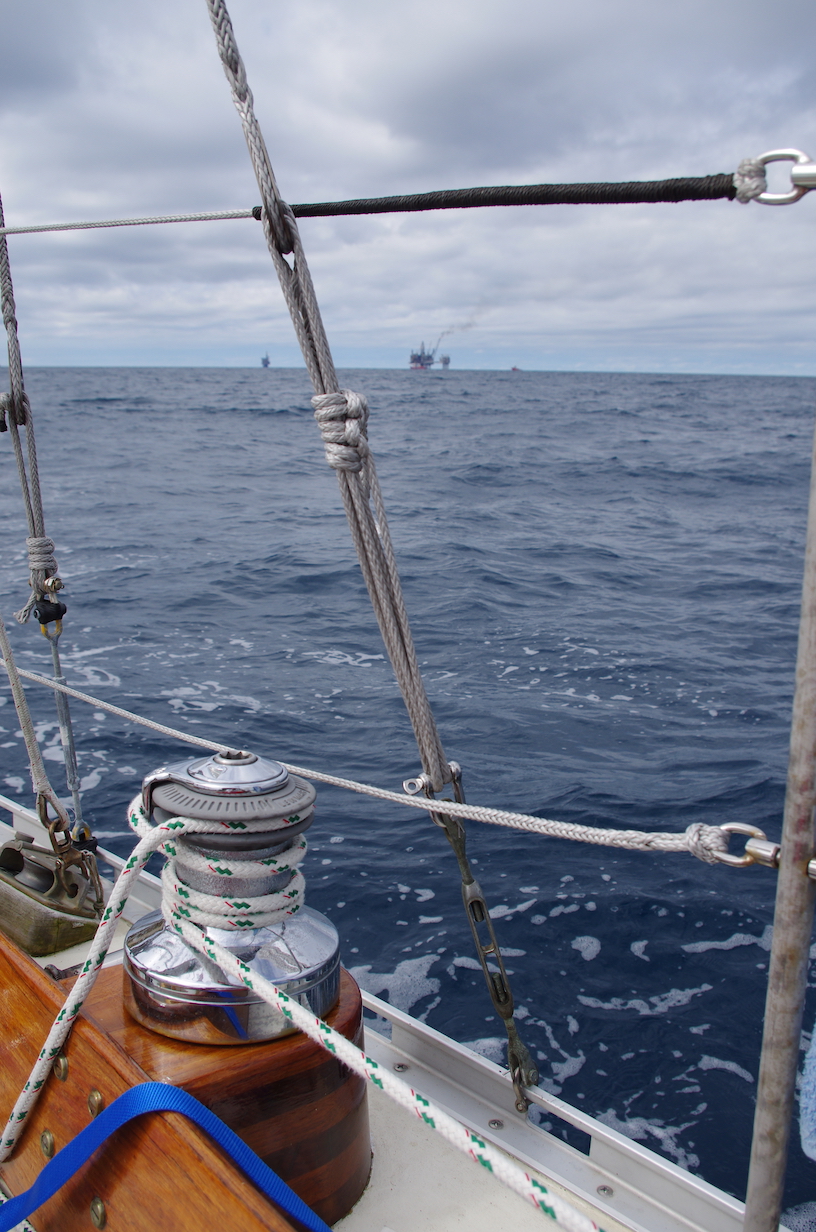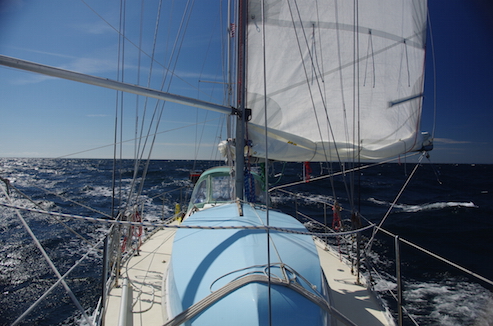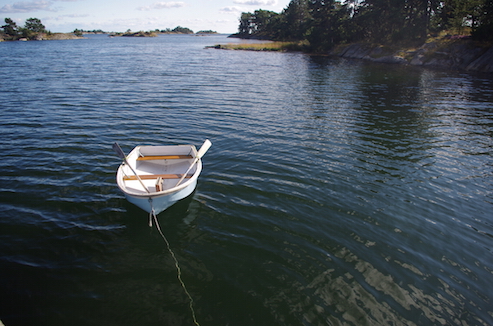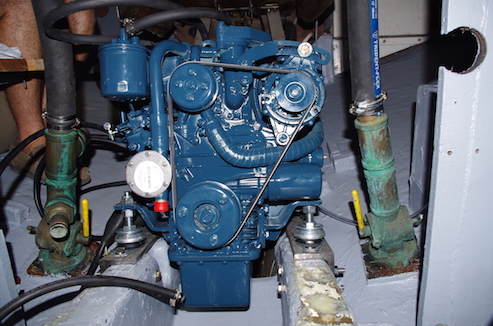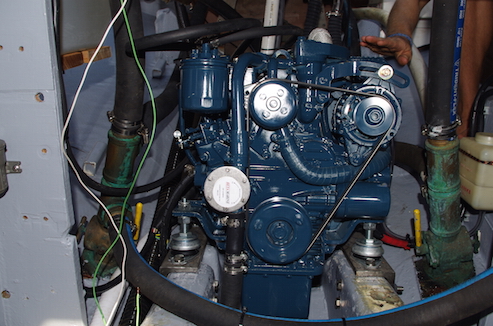 Builder: Allied Boat Company, Albany NY, USA
Model: Seabreeze Sloop/Yawl
Type: Keel / Centerboard Cruiser-Racer
Year Built: 1966
Designer: MacClear & Harris
Length Overall: 34' 11"
Waterline Length: 24'
Sail Area: 575 sq. feet
Displacement: 13,400 lbs. / 6.7 tons
Ballast: 4,000 lbs. / 2 tons
Draft: 3' 10" / 7' 0"
Beam: 10' 3"
Hull Speed: 6.56 knots
Displacement-to-Waterline: 439
SA/Displacement: 16.1
Hull & Deck
Solid fiberglass hull with balsa cored deck, much of which had been replaced by the previous owner. She shows no signs of water intrusion in either hull or deck.
'Oyster White' topsides & side deck nonskid, with light blue on the cabin top & in the cockpit. Dark red cove & boot stripes on hull, with matching dark red 'Arcturus' and 'ANNAPOLIS, MD' decals on the stern.
Custom aluminum toerail replaced by previous owner circa mid-2000s. Vastly improved over the old teak toerail - no maintenance, and no leaks!
Hull to deck joint was also re-done when the toerail was replaced, and subsequently reinforced. This was done under the supervision of the legendary Hal Roth, who'd done a similar repair on his 35' Spencer called Whisper. Ben Weems was tennis buddies with Hal, and got to know him well. Read about it in Hal's book After 50,000 Miles.
High-gloss varnish (Epifanes) on handrails, hatch boards and cockpit coamings. Scraped to bare wood in 2009 and 14 initial coats applied, then 2 coats annually thereafter. Thanks to Mia for that!
Tiller steering in the cockpit (converted from wheel-steering in 2010 for simplicity and ease of use with the wind vane). Converted 2011.
Cape Horn wind vane self-steering (new 2011).
Bow & stern pulpits with Colligo Dux synthetic lifelines (5mm). New 2010. (Note that these are 'missing' in some of the newer photos - we took them down for ease of boarding in the archipelago in Sweden. They are easily re-installed).
Rig
Original mast section with new double-spreader arrangement and inner forestay.
Colligo Dux synthetic shrouds, 9mm on mainmast, 7mm on mizzen (new 2010). 5x stronger than the wire it replaced! (Note: Andy is an expert at this stuff - if you're hesitant, please contact him first).
Wire headstay and inner forestay with hank-on genoa's and staysail.
Hayn bronze open-body turnbuckles (new 2013).
Colligo titanium chainplates (overbuilt and bolted to the hull) & Colligo titanium mast tangs (new 2010/11).
Slightly heavier section mizzen mast (taken from a Com Pac 25), made one-foot taller to accommodate the wind vane. Boom raised by a foot to keep the same sail area. Mizzen mast step new 2011.
Masthead tricolor/anchor light combo, LED bulb, new 2011.
Full-length, fixed aluminum spinnaker pole, stowed on deck with mast fittings and track for attachment.
Aluminum reaching strut with mast fittings, also stowed on deck adjacent spin pole.
Sail inventory
Working sails (genoa, main, mizzen) new 2011, built by Chesapeake Sailmakers in Annapolis.
135% genoa, 8-ounce, triple-stitched, hank-on
90% heavy-weather jib, hank on (older, but in good shape)
Hank-on storm staysail (like-new, built circa mid-2000s by previous owner).
155% light-air drifter with dynamo luff (free-flying). Re-cut and refurbished 2011 by Chesapeake Sailmakers.
Partially battened mainsail, 8-ounce, triple stitched, stainless slides on external track. Jib-headed (i.e.: no headboard, so less wear and tear). 2 deep reef points.
Partially battened mizzen, 8-ounce, triple stitched, intended for heavy weather use. Jib-headed. 1-reef point.
Light-air symmetrical spinnaker (circa 1960s, but useable).
Light-air mizzen staysail (circa 1960s, but in great shape).
engine & propulsion
Beta Marine 16HP diesel, two-cylinder, new 2013. 'Kubota Blue' custom color on custom, rebuilt engine beds of 10mm stainless steel. Only 75 hours on the engine! Full maintenance log available.
Vetus plastic fuel tank, 25-gallons, new 2013.
All new fuel lines.
Vetus water-lift muffler and exhaust, new 2013.
PSS dripless shaft seal, new 2013.
Groco intake strainer, new 2013.
Campbell 'Sailer' fixed 3-blade prop, new 2013 (also included is the Variprop feathering 3-blade that was with the Westerbeke - that will need re-pitching for the new engine).
Teleflex single throttle lever, new 2013.
Shift and throttle cables new 2013.
Despite what you might think, 16HP is NOT underpowered for the Seabreeze. We can easily make 6 knots in calm weather, and she's got plenty of oomph around the docks. It's a true 'auxiliary sailboat' - you won't make 6 knots motoring into a 3-foot chop in 25 knots of wind, but then again you shouldn't!
Interior arrangement & Equipment
Berths for four. Chain locker forward, vee-berth behind. Hanging locker to starboard, head to port, with the head sink facing aft. Main salon has custom twin settee berths (each with a lee-cloth) with bookshelves above and storage behind and beneath each side (see timeline below for details of this refit). Galley aft of the salon, with Force 10 three-burner stove/oven to port, icebox/chart table to starboard and companionway steps above the sink. Custom centerboard pipe (see timeline below for details) situated in the center of the salon, used as a mount for the centerline table (and a great handhold at sea!).
Force 10 three-burner propane stove with oven (new 2008).
European propane connections & two tanks; additional two (2) aluminum US propane tanks included in cockpit locker propane locker. Easily convertible back to US system with a simple fitting.
Fresh & salt water foot pumps (new 2011).
12V cooler-style refrigerator, 25 liters, in the locker aft of the stove. Self-contained and insulated, hard-wired to the electrical panel. New 2014.
Large icebox/dry storage locker under the chart table to starboard.
Wine locker to starboard in front of the settee.
Folding table on port side to add galley counter space.
Fully outfitted galley with dishes, pots & pans, silverware, etc.
Electrical system & electronics
Trojan T-105 6-volt house battery bank (two batteries wired to make one 12V system, 225 amp-hours). New 2014.
Deka 12V engine start battery, new 2014.
Secondary wiring new 2011.
All lightbulbs, including interior & running lights, replaced with LED bulbs, 2011.
Primary wiring new 2014 when the batteries were replaced.
Two (2) 25-watt Solbian flexible solar panels lashed to the canvas dodger, each wired to their own MPT controller. Put out a total of 5-6 amps on sunny days. Arcturus, with her minimal energy draw, is now fully energy independent!
Two Whale electric bilge pumps, new 2014. One under engine, one in salon bilge.
Standard Horizon AIS VHF, new 2011. Receive only.
Depth & speed instruments, both working. New mid-2000s.
Bulkhead-mounted compasses in cockpit and belowdecks (starboard side, forward of settee).
ACR Personal EPIRB (PLB).
Tankage
25-gallon Vetus fuel-tank, new 2013.
35-gallon water tank, built-in in the keel.
30-gallon water tank under vee-berth.
OTHER EQUIPMENT
All manuals included in well-organized three-ring binders, including Beta engine maintenance log.
Sig Marine '180' diesel Refleks-style, floor-mounted cabin heater. Plumbed into the main fuel tank on a y-valve 'downhill' of the fuel filter. Second in-line filter at the heater, with emergency shut-off valve. Removable chimney fitting that can be sealed when at sea with a stainless cap.
National Geographic world map on the main bulkhead of the salon.
'Sea Foam Green' weather cloths for lifelines around the cockpit, to protect against spray at sea.
Dodger and sail covers in 'Sea Foam Green' to match the interior cushions.
Boom-mounted Sunbrella summer awning in 'Sea Foam Green'
~10-feet of new 'Sea Foam Green' Sunbrella material on a ~4-foot roll. Matches the dodger, sail covers and interior cushions.
Large assortment of spare blocks and shackles, including six very high-quality snatch blocks for use on the toe-rail.
Large assortment of spare halyards & running rigging, stored in custom line locker in cockpit.
Custom two-piece heavy synthetic canvas winter cover with custom aluminum frame. Requires the masts to be de-rigged for proper installation. Cover has been maintained on our Sailrite machine to fix any small tears and it's in fantastic shape.
Fiberglass 7' Dyer dinghy, which fits on the foredeck between the mast and the inner forestay. Restored in 2010 before the crossing with new paint and nonskid.
2001 Winslow 4-person liferaft (needs inspection).
Lofrans 'Sea Tiger' 555 manual windlass (not installed, but it comes with the boat!).
Anchor roller at bow.
35-lb. CQR main anchor with 100' of chain spliced to 5/8" nylon rode thereafter.
25-lb. Danforth stern anchor on 30' of chain, with stern-reel webbing to make stern-anchoring a cinch!
Small 10-gallon holding tank under port settee (needs to be plumbed, but all the parts are there).
Custom painted mahagony rub-rail, installed by previous owner and very well-done.
'Bronze boat' – the Seabreezes used all bronze hardware in the 1960s – that's the centerboard and all the portlights. In the 70s, they went to aluminum for that stuff – needless to say, the bronze boats are much more sought-after.
Arcturus' Timeline.
2008
Bought Cybele from Benjamin Weems in Oxford, Maryland. Weems had owned the boat for 20 years and had just completed a multi-year, $35,000 refit on her which essentially restored her to original, like-new condition, at least cosmetically. The deck and hull had been awl-gripped, the interior was completely restored from the teak to the cushion, her dodger and sail cover were new, etc. etc. She shined.
We sailed her back to Annapolis and renamed her Arcturus, after a 1930's John Alden schooner that Andy had sailed on in New Zealand two days before meeting Mia. Arcturus, of course, is also the 4th brightest star in the night sky, and the zenith star of Hawaii.
2009
Began the refit on Arcturus that would allow us to do some serious ocean sailing.
Motored down the ICW to Pompano Beach, Florida, where we spent the winter of 2010, thinking we'd get the work done there and depart for Europe in Spring 2010 (that didn't happen!).
Re-rigged the boat with Colligo Dux synthetic shrouds.
Arcturus appeared in the 2010 Miami & Annapolis Boat Shows with Colligo to display the new rig and new lifelines.
Returned to Annapolis via the ICW in Spring 2010 after we didn't finish the refit, and decided to wait a year
2010
Spent the summer of 2010 in Annapolis refitting the major sailing systems for a trans-Atlantic passage, which included:
2nd re-rig: Redesigned the rig to be a double-spreader, double-headsail rig, based on the rig of Yves Gelinas' Alberg 30. The double-spreader rig added a few extra shrouds and a staysail for heavy weather. Rigged with synthetic 9mm Colligo Dux, 5x stronger than the ¼" wire it replaced. The only thing original was the mast section itself – all mast hardware, including spreaders, was new.
Chainplates replaced and moved outboard to stop deck-leaks. Chainplates overbuilt, with one extra bolt-hole, and fabricated from titanium, for strength and corrosion resistance, also by Colligo.
All mast tangs replaced with Colligo titanium.
Mizzen mast replaced with slightly heavier mast-section, and made one foot taller to accommodate the windvane. The boom was raised a foot to keep the same sail area. Mizzen mast step was also replaced new at this time.
Installed Cape Horn windvane, as per the direction of Cape Horn's inventor Yves Gelinas, who personally measured the boat during the Annapolis Boat Show the year before. In fact, he lost his tape measure in the bilge, where it remains! Comes with sailcloth light-air vane, and aluminum heavy-air vane.
Converted the binnacle, wheel steering to a traditional tiller, for simplicity offshore and to open up the cockpit while in port. Cape Horn connects directly to the tiller. Quadrant remains should the new owners wish to go back to wheel steering.
Re-engineered the bronze centerboard lifting mechanism so it's serviceable at sea. A pipe runs in the interior (and excellent handhold at sea), and the cable, also Dux, turns over a custom bronze sheave in the keel. The original bronze worm-gear winch is mounted to the pipe. Should the cable break, a messenger line can be lowered through the pipe from inside the cabin and re-attached to the centerboard by diving overboard. A much simpler and more robust system.
Re-designed the interior: changed the standard u-shaped dinette into a straight settee, with storage behind the backrests, below the seat, and a bookshelf over. Starboard side pilot berth was removed and made into a bookshelf, mirroring the port side. Design based on the 56' Cherubini schooner Adventurer. Much more storage as a result, better sea berths and a more open interior layout.
2011
Refit completed in spring 2011:
New working sails built by Chesapeake Sailmakers: 8 ounce, triple-stitched mainsail and mizzen, 8 ounce triple-stitched 135% genoa.
155% drifter re-cut and re-stitched by Chesapeake Sailmakers
Heavy-weather staysail (new in 2008) rigged with bronze hanks for use on the inner forestay (never actually used!).
Westerbeke engine removed and painted, fuel filter system re-designed for easier access (this has all since been replaced, see below).
Secondary electrical wiring replaced, and all lightbulbs, including interior and running lights (and tricolor) replaced with LEDs for energy efficiency.
Installed Standard-Horizon AIS-integrated VHF radio. Receives only.
Sailed Trans-Atlantic! July 4, departed Annapolis, MD. Stopped Newport, RI, Shelburne, Nova Scotia, Lunenburg, NS, Baddeck, NS, St. Pierre & Miquelon, then direct to Crookhaven, Ireland on the south coast. St. Pierre to Ireland in 23 days, landfall August 23, 2011. Boat stored outside Belfast, Northern Ireland, winter 2011.
2012
Trans-Atlantic to European continent completed!
Sailed Ireland to Scotland, through the Caledonian Canal, then direct from Inverness to Marstrand, Sweden, 5 days across the North Sea. Continued 600 miles around the south of Sweden to Stockholm. Boat stored winter 2012 in Vasteras, on Lake Malaren inland of Stockholm.
2013
Engine bilge and cockpit lockers completely cleaned, degreased and painted with Interlux Bilgecoat in grey. They look shiny & new now!
Custom engine beds fitted for the Beta and milled from 10mm stainless steel.
Beta engine control panel including all the gauges and key-switch start. Mounted in the companionway so it stays dry!
New Vetus water-lift muffler and exhaust hose, including positive shut-off valve for use when running in big seas, so as not to flood the exhaust.
New Groco strainer, and all new hoses, with custom-built aluminum mount directly under galley sink for easy access.
New Vetus 25-gallon fuel tank, with all new fuel lines and filters.
New Campbell Sailer 3-blade fixed prop (also included is the Variprop 3-blade folding propeller – may need re-pitched for use with the new engine).
New PSS dripless shaft seal (was able to use the prop shaft from the previous engine).
New cutlass bearing.
New shift and throttle cables.
Beta, which normally comes in red, was custom ordered in 'Kubota Blue' – probably the only Beta engine on a sailboat that's painted blue!
New Hayn bronze open-body turnbuckles brought from the USA and installed on all of the shrouds.
After the engine refit, we cruised the Baltic and circumnavigated the Finnish Aland Islands before leaving the boat in Oregrund, in the archipelago north of Stockholm, for the winter. Boat was hauled out and de-rigged each winter in Sweden.
2014
More improvements and upgrades!
Added 12V cooler-type refrigerator (self-contained) that fits perfectly in the locker aft of the stove in the galley. Uses less than 1-amp per hour and is very efficient, though a tad small. Big enough for milk, yogurt and some leftovers. Hard-wired into the electrical panel.
Primary electrical wiring replaced along with new house and start batteries (Trojan T-105 6-volt, wet-cell batteries on the house side (2), Deka 12V start battery for the engine).

New battery selector switch
echo-charger for start battery
electrical panel cleaned up and all secondary wiring routed and zip-tied appropriately. It's a super-clean installation!

Two flexible Solbian 25W solar panels installed on the canvas dodger, each with their own MPT controller. Provide 5-6 amps of power in full sun in Sweden. Arcturus is now fully energy-independent when there is sun shining – we didn't have to run the engine at all in 8-weeks of cruising to keep the batteries full, even with the new fridge!
Whale Sub electric bilge pump installed under engine bilge. Second Whale electric bilge pump installed in forward sump.
New foot pump in the galley for fresh water.
Cruised again in the Swedish archipelago and south to Visby, on the island of Gotland. Spent 8-weeks living aboard the boat. Hauled in September back in Vasteras, where she remains under full-canvas cover, with her masts re-rigged and stored nearby. Rigging all stored indoors.
FYI - Delivery to USA
Curious as to the cost of bringing Arcturus back to the US? Well, we think you ought to start your cruise in the Baltic, but then that's up to you! You'd have a few options on bringing her home:
Ship it: that's going to be around $10,000-15,000, and you'd have to get it to the UK first, though that'd be a nice cruise. Reputable companies include Dockwise, Peters & May, Sevenstar, DYT & others.
Hire a delivery captain from a company like PYD: This will cost about the same, but you can ride along for an Atlantic crossing!
Sail her in the ARC Rally! Las Palmas, Gran Canaria to St. Lucia in the Windward Islands.